Tourist tax needed 'to protect Highlands'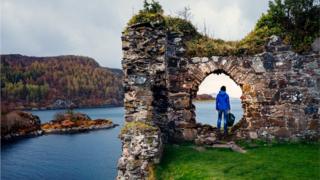 A tourist tax is needed to prevent people being put off visiting the Highlands because they "have to go to the toilet behind a bush", MSPs heard.
Holyrood's tourism committee was told the six million annual visitors to the region are worth £1.2bn and support 20,000 jobs.
But they also put pressure on roads, parking and public toilets.
The committee heard a tax would pay for improvements and ensure tourists are not given a bad impression.
Highland Council is among a number of local authorities across Scotland that want to introduce some form of levy on tourists, such as a tax on hotel bedrooms.
The councils say the money raised could either be reinvested in services that help tourism or go towards paying for local services generally.
Similar schemes already operate in other parts of Europe - but the Scottish government and business organisations are unconvinced by the idea.
However, there has been speculation that a tourism tax could potentially be used as a bargaining chip by the government as it seeks the support of the Scottish Greens for its forthcoming budget.
Highland Council convener Bill Lobban told the committee there was a real danger of the region's "deteriorating infrastructure" giving a "negative impression" and causing "reputational damage".
He added: "In some areas there is more tourist traffic on our roads than there are residents. The local residents are actually paying for the tourists, who are not providing us with the income."
Mr Lobban said a dependable long-term funding solution was needed "otherwise we run the risk that visitors just won't come back".
He said: "Personally speaking, I don't actually accept the argument that visitors will be deterred from visiting the Highlands if we charge them a £1 a night bed levy.
"In the Highlands we have some of the best food in the world, the best accommodation and the most magnificent scenery, but all that can come to nothing if a tourist pulls a wheel off his car or has to go to the toilet behind a bush."
No formal plans have been put forward for a tourist tax in the region but Mr Lobban said there was cross-party council support for a scheme being introduced.
'Losing battle'
Edinburgh City Council has led the way in plans for a tourist tax in Scotland, with its leader Adam McVey telling the committee a £1 a night bed charge could generate about £11m a year for the city.
However, councils will be unable to introduce any tourist tax unless Scottish ministers hand over the necessary powers.
Conservative MSP Jamie Greene highlighted a Federation of Small Businesses survey in which three-quarters of respondents were against the tax.
He also pointed to complaints from the tourism industry and a warning from the Tourism Secretary against bringing in measures which would "hammer" the sector.
He asked: "If the industry isn't in favour of it, if small businesses that it will affect aren't in favour of it and it sounds that even the government itself aren't supportive, do you feel like you are fighting a losing battle on this?"
Mr McVey said the reaction from business has been mixed and large firms such as Airbnb and Virgin back the plans.
Councillor Gail Macgregor, from local authority umbrella body Cosla, denied fighting a losing battle on the tax, saying engagement with the industry would continue and warned against "kneejerk" reactions on both sides.