Agriculture bill 'a missed opportunity', Scots ministers say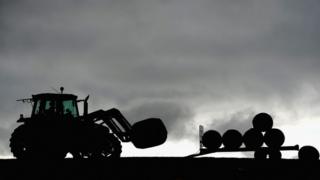 The newly published UK Agriculture Bill is a "missed opportunity" which "rides roughshod over the devolved settlement" the Scottish government has said.
The latest piece of Brexit legislation was introduced at Westminster on Wednesday morning.
UK Environment Secretary Michael Gove said it would deliver a "green Brexit" and a "smooth and gradual transition".
But Scottish Rural Economy Secretary Fergus Ewing said the bill does not deliver on promises made to farmers.
And industry leaders called for more clarity about where funding decisions would be made.
The Scottish government has pledged not to put Brexit bills forward for consent votes at Holyrood until a row over devolved powers has been resolved.
'Brighter future'
The agriculture bill sets out how the farming sector will move away from the EU's Common Agricultural Policy (CAP) in the years after the UK leaves in 2019.
Mr Gove said the plans would help the UK "move towards a brighter future for farming".
He said: "After nearly 50 years of being tied to burdensome and outdated EU rules, we have an opportunity to deliver a green Brexit.
"This bill will allow us to reward farmers who protect our environment, leaving the countryside in a cleaner, greener and healthier state for future generations.
"Critically, we will also provide the smooth and gradual transition that farmers and land managers need to plan ahead."
However, Mr Ewing said the bill "completely fails to meet the key tests of delivering on promises made to Scotland, respecting the devolved settlements and righting longstanding issues".
He said: "It represents a missed opportunity for the UK government to deliver on promises made during the referendum and since - namely that Scottish farmers would continue to receive at least the same level of funding as they currently do in the event of Brexit.
"This bill rides roughshod over the devolved settlement. For example, on compliance with World Trade Organisation rules, the bill could create sweeping unilateral powers that could constrain policy choices in Scotland.
"It is therefore of serious concern that the UK government could impose unwanted policies and rules on Scottish farmers in areas of devolved competency."
'Change position'
The UK government pointed to the fact that agriculture is a devolved issue in Scotland, and said the Scottish government had "chosen not to take any powers" from the bill.
A spokesman said: "It is now for Scottish ministers to decide their own policy and either change their position to take advantage of our open offer for them to take Agriculture Bill powers, or pass a separate bill in the Scottish Parliament."
The National Farmers Union Scotland (NFUS) said there needed to be more clarity about how funds would be managed, and how much control would be held at Holyrood.
President Andrew McCormick said: "Brexit provides an opportunity to move out of the shadow of the CAP and today's publication of the Agriculture Bill takes Scottish agriculture one step further towards its post-Brexit future.
"This is a detailed document and we will go over the proposals with a fine-tooth comb in the coming few days to fully establish what it means for Scotland's farmers and crofters."