Richard Lochhead to return to Scottish government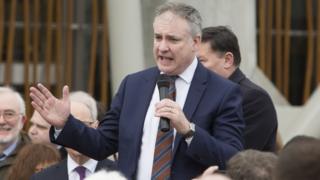 Richard Lochhead is to return to a Scottish government after more than two years away from the front benches.
First Minister Nicola Sturgeon said Mr Lochhead will be her new minister for further education, higher education and science.
The role was initially to have been filled by Gillian Martin.
Ms Martin's nomination was dropped by Ms Sturgeon in June amid a row over "inappropriate" language in a blog.
Mr Lochhead, the SNP MSP for Moray, had been the government's rural affairs secretary for nine years before stepping down in 2016 for family reasons.
He said he was "honoured and privileged" to have been asked by Ms Sturgeon to rejoin her ministerial team and was looking forward to getting to grips with his new brief.
He added: "The further education, higher education and science role is an exciting opportunity not just to help shape one of the underpinning economic strengths of Scotland but also deliver on our ambitions for a fairer country."
Ms Sturgeon said Mr Lochhead brought significant ministerial experience to the role, and had also been a "hugely successful campaigning MSP in parliament" over the past two years, particularly around the issue of unfair delivery charges to the Highlands.
The first minister said: "I know he will bring that energy and drive into government."
The appointment was welcomed by Shona Struthers, the chief executive of Colleges Scotland.
But Scottish Labour's education spokesman, Iain Gray, said Mr Lochhead had a "big job on his hands".
Mr Gray said: "He inherits a college sector where the attainment gap is as stubborn as ever, a lack of faith in the university student funding cap and he has to implement a reform in student support which ditched the review's main recommendation."