Former NHS boss Lesley McLay received £90,000 payment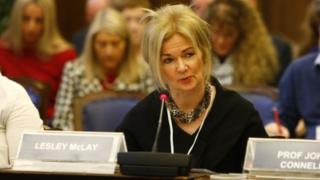 The former chief executive of NHS Tayside received about £90,000 on termination of her employment, BBC Scotland understands.
Lesley McLay left the health board last week after going on sick leave in April, the day after being told she could no longer continue in the role.
Labour MSP Jenny Marra claimed on Monday that Ms McLay received a package worth more than £300,000.
The health board later said the claims were "categorically untrue".
NHS Tayside Chairman John Brown has now written to Ms Marra with details of the payments given to Ms McLay.
The health board said the payments were "legal and contractual entitlements and no additional payments have or will be made by NHS Tayside".
Details have not been made public, however, BBC Scotland understands the payments total £90,000 including pension contributions.
Ms Marra, who is convener of Holyrood's public audit committee, has so far not been available for interview about her original allegation.
In a statement released by Scottish Labour on Wednesday afternoon, she made no mention of her claim that Ms McLay had received a £300,000 financial package.
But she claimed that "most people will agree that such a huge severance payment is inappropriate in this case".
Ms Marra added: "If NHS Tayside had been honest about the extent of this pay off in the first place, the board could have gone some way to starting to rebuild trust with patients and staff.
"Instead, it has now been forced to release this information that should have been made public in the first place.
"I look forward to seeing Audit Scotland's opinion on this payment when they publish their latest emergency report in September on the financial mess at NHS Tayside."
Brokerage loans
NHS Tayside's top management team was replaced after cash from a charity endowment fund was used to pay for projects including a new IT system.
The health board has received Scottish government "brokerage" loans of £33.2m in the past five years.
Ms Marra told BBC Scotland on Monday: "I understand today that the golden handshake that Lesley McLay has received is over £300,000."
And she claimed the payments were a "slap in the face for everyone working in NHS Tayside and for the people of Tayside" as Ms McLay had "presided over financial chaos in NHS Tayside".
Scottish Conservative MSP Bill Bowman, who is a member of the public audit committee, called for an independent inquiry into the arrangement between the health board and Ms McLay "in order to restore full confidence in the process and the way in which taxpayers money is being spent".
He added: "The public - and in particular patients and staff at NHS Tayside - have the right to know exactly what has happened."