Trump arrives in Scotland amid protests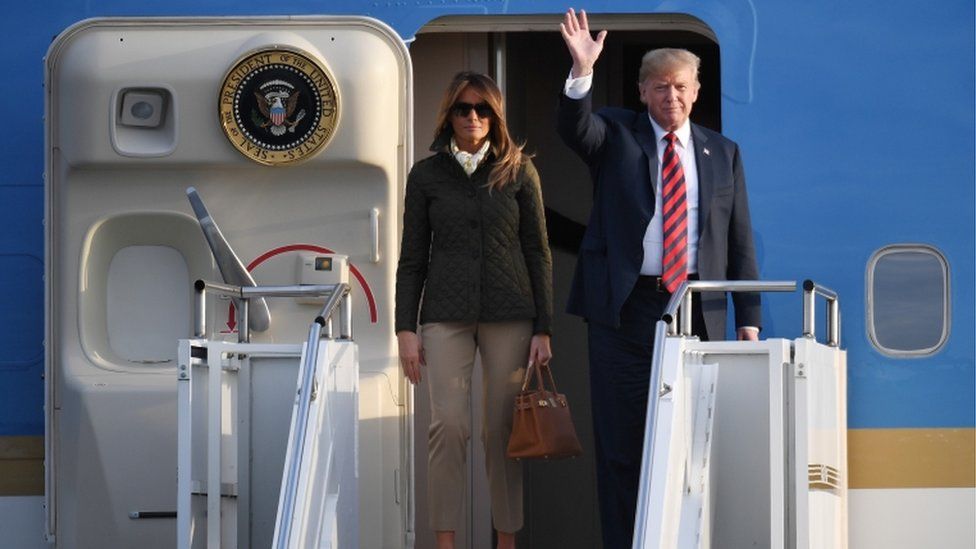 Donald Trump has arrived in Scotland as thousands of people gathered to protest against his visit.
The US president touched down at Prestwick Airport shortly after 20:20 after completing his two-day working trip to the UK.
Mr Trump, whose mother was Scottish, will spend the weekend at his Turnberry golf resort in Ayrshire in what has been described as a private visit.
Protestors filled George Square in Glasgow ahead of his arrival.
Shortly after Mr Trump's arrival at Turnberry a power paraglider was spotted flying close to the resort with a banner which said "Trump: Well below par".
The Scotland United Against Trump group had said it hoped to attract about 3,000 people to the Glasgow protest, which organisers said was intended to send out a message that Scotland opposed Mr Trump's "politics of division and hatred".
Among the placards carried by campaigners in George Square were messages against the US president's policies including "Give the weans Irn Bru not iron cages" while others urged him to go home, with signs saying "Bolt ya rocket and make Scotland great again".
Mr Trump has often spoken of his love for Scotland and its people and had been a regular visitor to the country for many years, but this is his first trip since becoming president.
The president and his wife Melania waved as they left Air Force One shortly after arriving at Prestwick, before being taken away in a huge convoy of black vehicles for the 20-mile journey to Turnberry.
Mr Trump was driven in a vehicle with the US and Scottish flags displayed on the bonnet.
He was greeted by Scottish Secretary David Mundell, who said he was "pleased to greet Mr Trump on behalf of the UK government".
He added: "The UK and the USA a have long and important relationship - we have close cultural ties, a strong economic partnership and the US is one of our most important security allies.
"The President's visit is an opportunity to strengthen those vital links. Mr Trump is passionate about his Scottish heritage, and I hope he enjoys his visit to Scotland."
Anti-Trump campaigners also gathered in Dundee, while further protests are expected to target his Turnberry and Menie golf courses as well as the US consulate in Edinburgh.
And a "national demonstration" will gather outside the Scottish Parliament in Edinburgh on Saturday, with protestors walking to the Meadows for a "carnival of resistance".
The carnival will feature the giant Trump Baby balloon, which has been banned from both Turnberry and the Scottish Parliament.
Huge numbers of protestors also marched through the streets of London as Mr Trump met Prime Minister Theresa May and the Queen earlier on Friday.
He is being hosted by the UK government throughout his trip.
Mr Trump is not expected to meet First Minister Nicola Sturgeon, who has been a vocal critic of the president.
Ms Sturgeon will lead thousands of marchers at the Pride Glasgow march on Saturday.
The president's arrival in Scotland has sparked a major security operation, but police insist they want to strike a balance between "protection and public safety and the public's right to peacefully protest".
The BBC's Frankie McCamley, who is at Turnberry, said the area had been "saturated" with security personnel ahead of the president touching down, with police snipers crouched on three tiers of temporary scaffolding overlooking the golf course and other officers roaming the grounds.
Roads into the area were blocked off with cars being stopped and thoroughly searched before entering, while officers were guarding the beach as a police boat carried out practice drills about a quarter of a mile out to sea.
Mr Trump's son, Eric, played golf at the family's course at Menie in Aberdeenshire on Thursday, and said he hoped his father would be able to visit it as well as Turnberry while in the country.
He added that the president loved the Aberdeenshire course "more than maybe anywhere else in the world".
Mr Trump is due to leave Scotland on Sunday, when he will travel to Finland ahead of talks with Russian president Vladimir Putin.