Call to review 'tens of thousands' immigration target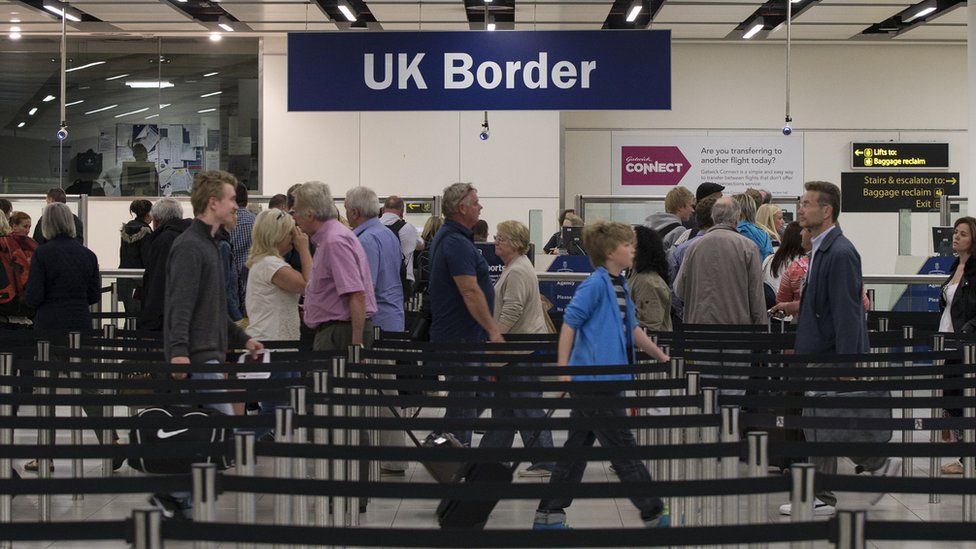 MPs on the Scottish Affairs Committee have urged the UK government to review its target of cutting immigration to the tens of thousands.
A new report from the committee said cutting migration could hit population growth and the economy in Scotland.
The Home Office argues that the public is in favour of lower immigration, citing the Brexit vote as evidence.
But committee chairman Pete Wishart said the current immigration system was failing to meet Scotland's needs.
The goal of cutting net migration - the difference between the number of people arriving in the UK versus the number leaving, over a year - was first set by David Cameron's coalition government in 2010.
The target has never been met, with annual net migration standing at about 244,000.
The Scottish Affairs Committee took evidence from Scottish and UK government ministers, migrants groups, business and education representatives and tourism bosses during an inquiry into "immigration and Scotland".
The committee's report underlined the demographic challenges facing Scotland, stating that issues of an aging population and shrinking working-age cohort are "especially pronounced" north of the border.
Future population growth in Scotland is expected to be entirely dependent on inward migration, and the committee said reducing migration would thus "have a negative effect on population and economic growth in Scotland".
Members conceded that immigration was "not the only solution to meeting Scotland's demographic and economic challenges", but said this area of policy was "a key part of responding to these challenges".
Chairman Pete Wishart said the committee's inquiry had "raised serious concerns".
He said: "The current visa system for non-EU worker is complicated and bureaucratic and the way the current net migration target is enforced benefits London to the expense of the rest of the country.
"Scotland's future population growth is entirely dependent on continued inward migration and it appears that Scotland's needs are not being fully met under the current system."
Policy recommendations in the report include a new scheme for seasonal agricultural workers, students being removed from the target, and a study of "increased regional differentiation" in immigration policy.
Immigration minister Caroline Noakes told members that the public was in favour of cutting immigration, citing the Brexit vote as a "very clear message" that people want "more control of immigration and our borders".
She said: "I am very conscious that people who come here to work contribute a great deal to our country. They bring significant benefits. However, there is no consent from the British people for uncontrolled immigration."
The committee also argue that the post-Brexit immigration system "must be user-friendly for Scottish small businesses".
A policy paper on immigration is expected to be published later this year, as plans for the new system after the UK leaves the EU are drawn up.
Home Secretary Sajid Javid has insisted that there will be a "complete, total end to freedom of movement".
He told the Home Affairs Committee on Tuesday: "Freedom of movement as we understand it today will end. There will be no version of that, no derivative of that, no back door version of freedom of movement.
"Some parliamentarians have suggested: 'Can you end it in name only and can you have some sort of back door arrangement?' Absolutely not."
Mr Javid said there would be "no automatic right for anyone in the EU for example, or anyone else for that matter, to just make a unilateral decision that they can just hop on a plane or ferry and just come and work in the UK".
Related Internet Links
The BBC is not responsible for the content of external sites.