Banks 'failed to engage' over Scottish branch closures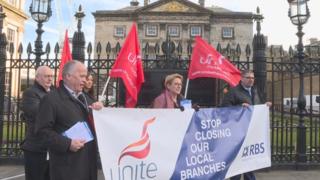 Banks have failed to engage with Scotland's communities over the "significant decrease" in the number of local branches, MSPs have said.
The number of bank branches in Scotland fell by a third between 2010 and 2017, with five banks closing 488 branches.
Bank bosses say customer habits are changing, with people shifting to online banking services.
But Holyrood's economy committee found that closures had left communities and local businesses feeling "abandoned".
Convener Gordon Lindhurst said members were "in no doubt that the loss of branches has had a negative impact on communities and businesses across Scotland".
Branch closures
The committee opened an inquiry into bank branch closures in March, aiming to gather evidence on the effect on local businesses, customers and the economy.
They found that the number of branches across the country reduced by a third between 2010 and 2017, with fewer than 800 to be left in operation by the end of this year.
The five banks which gave evidence to the committee had closed 488 branches between them over the past seven years.
This has been linked to "significant developments in online and mobile technology available", but has caused concern among communities - particularly the vulnerable, elderly and disabled.
| Bank | Branches in 2010 | Current branches | Change | % change |
| --- | --- | --- | --- | --- |
| Bank of Scotland | 293 | 206 | -87 | -30% |
| RBS | 334 | 99 | -235 | -70% |
| Clydesdale Bank | 150 | 71 | -79 | -53% |
| TSB | 189 | 155 | -34 | -18% |
| Santander | 104 | 60 | -44 | -42% |
Bosses from five banks with significant operations in Scotland came to give evidence to the committee at Holyrood. They said branch use was in decline in light of new technology and ways of doing business.
Simon Watson from RBS told members that use of branches had "roughly halved" in the last five years, with online and mobile banking now the primary way customers use services.
Susan Allen from Santander said day-to-day transactions were declining "not just because of internet banking but because of the level of use of debit cards", with people less reliant on cash for transactions.
The committee's report acknowledged that "banking habits are changing", but said that alternative methods "do not suit everyone or work in every community", and said that "for some, bank branches are still the most suitable form of banking".
They also said that "cash is essential for some businesses and is still widely used", and said branch closures "have impacted on productivity, which will impact on Scotland's economy".
Carol Anderson from TSB told the committee that decisions were "very much led by customer behaviour", saying: "We look at what is available for our customers, how our customers use our branches and what other access to banking there is in the community."
Robin Bulloch from Bank of Scotland told members that the group had a moratorium on branch closures for a number of years, and said the 30% reduction in the number of branches was a "measured and gradual approach".
And Gavin Opperman from Clydesdale said money from branch closures was reinvested "back into the community", saying "it's not as if it is a dividend that is distributed back to shareholders - it is reinvestment that aims to support communities".
Locals 'abandoned'
On closer questioning, it emerged that none of the banks had a formal consultation process with local people before deciding to close a branch.
All said local management or staff could be consulted, but Mr Bulloch said a formal survey of local people "could create a high degree of uncertainty for customers and colleagues about the possible outcome".
The committee said there needed to be better engagement with local people and firms during the decision-making process.
Mr Lindhurst said: "People told us that they feel abandoned by the banks following branch closures, with alternatives offered by the banks often not meeting their needs. It is vital that people have access to cash and face-to-face banking services.
"The committee believes that banks must engage with people and businesses on their needs before deciding to close a branch. The UK government should urgently carry out a full study into the effects on communities."