Former minister barred from Holyrood over sexual harassment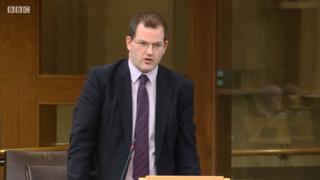 MSPs have agreed to exclude former minister Mark McDonald from Holyrood for a month over sexual harassment.
Mr McDonald quit as early years minister in November 2017 after he sent an "inappropriate" message to a woman, and later left the SNP group.
A probe by the ethical standards watchdog found that his conduct constituted sexual harassment.
The Aberdeen Donside MSP will be barred from the Holyrood estate for a month without pay, after the summer recess.
The punishment was recommended by the standards committee, which said members should send a "clear signal about the seriousness of Mark McDonald's conduct".
Mr McDonald left his ministerial role after admitting causing "considerable distress and upset" to a female staff member.
The married father-of-two was later suspended from the SNP, and was absent from parliament for four months while the party investigated "new information" about his conduct.
Holyrood's standards committee called in the Commissioner for Ethical Standards in Public Life in Scotland in March, the month Mr McDonald returned to parliament, following a complaint from SNP member James Dornan.
The watchdog said there was "no evidence to support" Mr Dornan's assertion that Mr McDonald had been "waiting or skulking in the Garden Lobby area" waiting for a member of his staff.
However, the report concluded that Mr McDonald's behaviour in sending the text message which sparked his resignation had amounted to sexual harassment.
Standards committee member Patrick Harvie told MSPs that the sanction would not impact unduly on Mr McDonald's staff or his constituents.
No members spoke against the recommended sanction, with Mr McDonald not present in the chamber, and MSPs voted by 101 to 0 to agree the punishment - although six members abstained.
They were SNP members Colin Beattie, Willie Coffey, Linda Fabiani, Kenny Gibson, Christine Grahame and John Mason.
Mr McDonald had previously said he would accept the judgement of parliament, and said he would "continue to represent the interests of my constituents diligently".