Scottish government 'still backs Heathrow'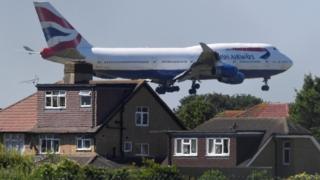 The Scottish government says it remains "supportive" of a third runway at Heathrow despite SNP MPs abstaining in a Commons vote on Monday.
Transport Minister Humza Yousaf said the government still backed the project in principle.
But he said SNP MPs were "absolutely right" to demand guarantees about the benefits to Scotland.
The Conservatives claimed the abstention was "another grievance-stoking stunt" by the SNP.
And the Greens said the Scottish government's continuing support for the Heathrow project left it without "any shred of credibility" on climate change.
The Scottish government has been a long-time backer of the Heathrow expansion plan, formally backing the bid in 2016 after the airport made a list of commitments to Scotland, including creating up to 16,000 jobs and investing £200m in the country.
The government said on Sunday it "looks forward to Scotland seeing the benefits" of a third runway being built at the airport.
But the next day, SNP MPs announced they would be abstaining in the vote because the UK government had "failed to make the case" for the move.
The UK government also faced opposition in its own ranks, with a number of Conservatives who represent seats on Heathrow's flight path rebelling - and Foreign Secretary Boris Johnson missing the vote because he was in Afghanistan.
The Commons eventually overwhelmingly supported the government's plan by 415 votes to 119.
Mr Yousaf was questioned about the issue at the Scottish Parliament on Tuesday.
He responded by saying the government "welcomes that the third runway project is now moving to the stage of Heathrow applying for a development consent order".
But he said "some MPs across all the political parties were not persuaded to support the UK government's national policy statement".
Mr Yousaf added: "It is now incumbent on the UK government to build more confidence in the process and more clearly set out the economic benefits which a third runway at Heathrow can deliver throughout the UK.
"The Scottish government's position remains that Scotland should benefit proportionately from the new runway capacity, and this should be subject to guarantee."
It has been claimed the project would create around 100 new flights to Scotland, but Mr Yousaf said his party's MPs had been "absolutely right" to demand guarantees that this would happen, and assurances on environmental issues.
Conservative MSP Jamie Greene said SNP MPs had "ducked out in another grievance-stoking stunt in Westminster".
He added: "Doesn't this go to show that given the choice between stirring up an argument or boosting jobs and the economy in Scotland, for the SNP it's always party first and everything else second."
And Liberal Democrat MSP Mike Rumbles said the SNP's stance was an "unmitigated embarrassment", given that former Economy Secretary Keith Brown had "engaged extensively with Heathrow" and signed a memorandum of understanding.