Former Holyrood presiding officer Sir Alex Fergusson dies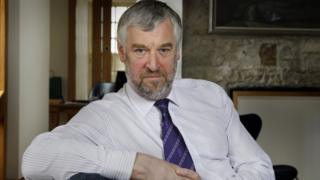 Sir Alex Fergusson, former presiding officer of the Scottish Parliament, has died aged 69.
The former Conservative MSP for Galloway and West Dumfries stood down from Holyrood after 17 years of service in 2016, and was subsequently knighted.
He served as Holyrood's third presiding officer from 2007 to 2011.
Scottish Conservative leader Ruth Davidson said Sir Alex was "an enormous figure" in her party who had been an "exemplary" presiding officer.
He died at home early on Tuesday morning following a short illness. Flags at the parliament have been lowered to half mast as a mark of respect.
Born in Wigtownshire in 1949, Sir Alex was educated at Eton College and the Scottish Agricultural College before running his family farm for almost 30 years.
He reared cattle and sheep on the 1,500 acre farm in South Ayrshire until being elected to the Scottish Parliament as a political newcomer in 1999, as a regional list member for South Scotland.
He was then returned as a constituency MSP in Galloway in the next three elections, and was picked as presiding officer by fellow members for the 2007 to 2011 term - defeating Margo MacDonald by a margin of 103 to 20.
He said he had no intention of becoming presiding officer, having been "just relieved to be returned to parliament" after defending a majority of 99 votes against a "strong SNP challenge" in the 2007 election.
Sir Alex said he "immensely enjoyed the privilege" of holding the post, but said it left little time for family life and constituency issues.
After the 2011 election he was pitched straight back onto the front line for the Conservatives, becoming the party's rural affairs spokesman one day after stepping down as the parliament's figurehead.
He was immediately entitled to a pension for serving as presiding officer, but opted to donate it to charities in his constituency while he was still receiving an MSP's salary.
'Extraordinary honour'
Sir Alex stepped down as an MSP at the 2016 election, after 17 years of public service. He said he had "tried very hard" to represent his constituents, saying "I cannot thank them enough for that privilege".
He was subsequently knighted in the Queen's birthday honours for services to public life in Scotland, something he described as an "extraordinary honour".
His Galloway and West Dumfries seat was held by the Conservatives, with Finlay Carson succeeding him.
Ms Davidson said Sir Alex was "an enormous figure" in the Scottish Conservative party.
She said: "He was a great defender of parliament, as you saw through his exemplary period of office as presiding officer.
"But his first love was south west Scotland, and even after he left Holyrood he still campaigned to get a new national park in his beloved Dumfries and Galloway."
Current presiding officer, Ken Macintosh, said Sir Alex had "a deep-seated sense of duty and service".
He added: "At Holyrood and in life beyond politics, there are few people who had the pleasure of knowing Alex who did not like him immensely. He is the first presiding officer to leave us, and he will be missed terribly by members and staff alike."
First Minister Nicola Sturgeon said Sir Alex was a "distinguished presiding officer and a dedicated parliamentarian with friends and admirers from across the political spectrum".
Scottish Secretary David Mundell said: "To me, Alex was foremost a great friend and I will miss him dearly.
"He is the most thoroughly decent person I have ever known. He was the absolute opposite of the career politician and was guided by a sense of public duty and his core values of family, community and country, rather than party dogma."
Scottish Labour's South Scotland MSP Colin Smyth said the former presiding officer was "a real giant of a man in every way", adding: "He treated everyone, friend or political foe, with decency and good humour and was a real gentleman respected by everyone across the political divide."
Scottish Green co-convener said Sir Alex was "always a decent person", while Lib Dem leader Willie Rennie said he had "guided the parliament through uncharted territory with great skill" during Holyrood's first period of minority government.