Winter deaths were highest in 30 years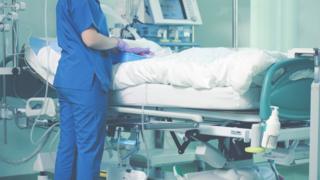 The number of people who died in Scotland over the winter months was the highest in more than 30 years, according to official figures.
There were 17,771 deaths registered in the first three months of this year - 2,060 more than in the same period of 2017 and the highest since 1986.
A spike in the number of people dying from flu and other respiratory diseases accounted for much of the rise.
The UK suffered its worst flu outbreak in seven years over the winter.
The flu rate in Scotland doubled in each of the first two weeks of the year before peaking in mid-January and then returning to normal seasonal levels.
The country also suffered its worst winter weather in decades.
The National Records of Scotland figures showed there were 2,855 deaths from respiratory illnesses between January and March of this year - 753 more than the same period last year.
Within this group, the number of flu deaths rose from 72 last year to 331.
The statistics also showed:
Deaths from cerebrovascular disease, including stroke, rose by 11.1% to 1,220;
The number of deaths from coronary heart disease rose by 5.4% to 1,916;
There were 4,119 deaths from cancer, an increase of 1.3%
Deaths from Alzheimer's Disease increased by 22.5% to 795
The number of deaths from dementia rose by 15% to 1,416.
Over the longer term, deaths from coronary heart disease and cerebrovascular disease have decreased considerably, but the number of deaths from cancer and respiratory disease has risen slightly.
There has been a relatively large increase in the number of deaths from dementia and Alzheimer's disease, with such deaths now accounting for more than 10% of all deaths compared to 5% a decade ago.
Meanwhile, the statistics also showed that there were 12,713 births registered in the first three months of the year - 539 fewer than the same period last year and the lowest first quarter total since 2003