STV defends 'golden hello' for chief executive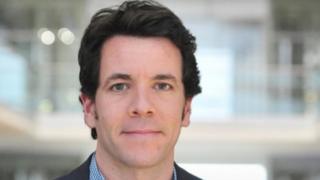 STV's chairwoman has defended the "golden hello" given to chief executive Simon Pitts as "usual practice".
There has been controversy over the £853,000 welcome package after Mr Pitts unveiled plans to cut 59 staff.
Baroness Ford wrote to MSPs defending the "strategic review" under way at the broadcaster, which will see STV2 shut down after the channel lost £800,000.
She said it was "a pity that some commentators have tried to conflate the issue of Simon's pay" with the changes.
And she said the "one off payment" was to compensate Mr Pitts for his shareholding at ITV, which she insisted was "usual practice in public companies when very senior executives transfer from one company to another".
Mr Pitts joined the STV board in January 2018, and immediately began a strategic review of the broadcaster's operations and news output.
In May he announced that STV2 - which was launched in 2017 to bring together STV's regional TV stations - would close down after losing £800,000 in its first year.
This will result in a total of 59 jobs being cut, factoring in wider changes to news output which will see a shift to more digital content.
The National Union of Journalists said staff were "horrified and extremely angry", and First Minister Nicola Sturgeon said she was "very disappointed and concerned".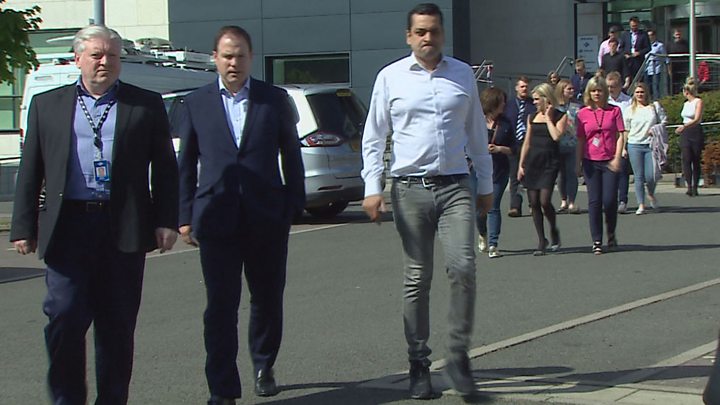 And Labour MSP James Kelly said it "will stick in the craw for many that the news was delivered as part of cost-cutting measures from a CEO that was awarded a 'golden hello' of over £800,000".
Mr Pitts will give evidence to Holyrood's culture committee on Thursday, but ahead of this Baroness Margaret Ford, STV Group's chairwoman, wrote to MSPs defending the changes.
She said the board "fully appreciates that undergoing change can be extremely difficult", but said members had "a duty to modernise our offering to remain competitive" - adding that "failure to do so in a timely way would let down our talented staff, dedicated viewers and supportive shareholders".
And she criticised commentators who had "tried to conflate the issue of Mr Pitts' pay with this strategic review", saying that his total pay was no higher than that of his predecessor.
'Major changes'
She wrote: "Commercial television is a very competitive sector and we were determined to bring the best leadership in the sector to Scotland.
"On joining STV we compensated Simon on a one-off basis for the considerable shareholding he had built up with his former employer and which he was obliged to forego.
"This is usual practice in public companies when very senior executives transfer from one company to another and was strongly supported by our shareholders. I feel it is important to correct how this had been misrepresented in the press."
Speaking ahead of the meeting, culture committee convener Joan McAlpine said MSPs were "concerned" about the strategic review.
She said: "The proposals recently announced by STV would mean major changes to the structure of a national broadcaster, particularly affecting how news is delivered across Scotland.
"The entire committee was concerned about what these proposals will mean in practice and we will use Thursday's evidence session to find out more about the proposed job losses as well as the sale of local TV licences."
Mr Pitts will be joined at Thursday's meeting by Bobby Hain, STV's director of channels. Baroness Ford said she was unable to attend because she is "travelling on that day".