What's on at Holyrood? Gay pardon bill and hate crime debate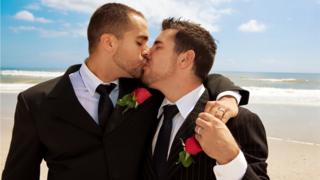 Find out what's going on at the Scottish Parliament this week - from legislation to pardon gay men for past convictions to the review of hate crime law.
---
On the legislative front, this week is less busy than last.
Only one Bill features on the agenda, on Wednesday, and it is the Historical Sexual Offences (Pardons and Disregards) Bill.
This will see hundreds of gay men convicted of sexual offences automatically pardoned.
These men will also be given the right to apply for convictions to be removed from criminal records.
Here is a rundown of the rest of the week........
Tuesday - ADHD stigma and NHS budgets
Topical questions will cover the safety of frontline police officers and the Scottish government's latest proposals for tackling childhood obesity.
The rest of Tuesday afternoon will be dominated by a Scottish government-led debate on "Celebrating Scotland's Volunteers". There is expected to be consensus around the benefits of volunteering, with a possible note of concern about not everyone having access to such opportunities.
The probable highlight of the day will be a member's debate led by Labour MSP Daniel Johnson.
He will raise concern about the portrayal of treatment for ADHD (attention deficit hyperactivity disorder), particularly in a recent Netflix documentary "Take Your Pills".
Mr Johnson himself has ADHD. He has spoken in parliament before about his late diagnosis - at the age of 35 - and how taking daily medication has "transformed" his life. Indeed, he went on to express regret that this diagnosis and subsequent treatment was not made earlier in his life.
His motion calls for the use of medication to treat neuro-developmental disorders to be considered as legitimate as for physical illness.
The health committee will hear from a range of experts including NHS Scotland chief Paul Gray and the Scottish government's chief medical officer Dr Catherine Calderwood.
The context here is treatment time targets are being missed prompting health board's to request more funding.
In addition, the committee will discuss regulations which will remove a qualification that free personal care can only be offered to those over 65 - an important step for the Frank's Law campaign.
Elsewhere;
the justice committee has its final evidence session on the Management of Offenders Bill with Justice Secretary Michael Matheson and the Scottish Sentencing Council
and environment committee considers how climate change legislation will be monitored and enforced after Brexit. (You can tune in to Scottish Parliament TV to watch these committees)
Wednesday - growing the economy
In addition to the Bill to pardon gay men, MSPs will also debate the Citizen Girl initiative on Wednesday evening - a joint campaign with Girlguiding Scotland and Women 50:50 aiming to empower girls.
It is at the morning's finance committee where sparks will most likely fly. The committee will first hear from the Scottish Fiscal Commission following its warnings of "subdued" growth over the next five years.
Afterwards, Finance Secretary Derek Mackay will be in the hot seat to discuss his medium-term financial strategy.
Tory finance spokesperson Murdo Fraser and Labour finance spokesperson James Kelly sit on this committee, so sparks could well fly.
A key point of contention may be around control of migration powers, as last week Mr Mackay insisted that "when the effects of population growth are stripped out, Scottish growth is much closer to UK growth". This comes off the back of the SNP's growth commission making similar calls for devolving immigration powers.
Meanwhile, the rural economy committee will be focusing on the implications of leaving the EU with both Rural Economy Secretary Fergus Ewing and Brexit Minister Mike Russell present. Migration and access to labour will probably feature here too.
Thursday - hate crime
A recent independent review of hate crime legislation found offensive behaviour at football could be effectively dealt with using current law - contrary to Scottish government concerns in light of the repeal of the Football Act earlier this year.
This and a range of related issues will be the subject of the debate on Lord Bracadale's review on Thursday afternoon.
Other key recommendations included;
all hate crime law should be consolidated into a single piece of legislation
age and gender aggravations should be coverage
and that a new offence around people who "stir up" hatred should be established.
The report was only published last week so it is unlikely that the Scottish government will set out its full response - but it has already confirmed it plans to bring forward a consultation for new legislation.
Turning to Thursday morning's committees, the two most interesting are the petitions committee and culture committee.
At the former, MSPs are taking evidence on reviewing ME (myalgic encephalomyelitis) treatment.
Campaigners are calling for investment in research, more training for healthcare professionals and more specialist care. Emma Shorter, who lost her place at university due to the condition, and her mother Janet Sylvester will discuss their experience.
Meanwhile at the culture committee, MSPs will hear from STV bosses on the channel's strategic review - including plans to axe 59 jobs which saw on-air presenters lead a walk-out last month.