School meal smoothie ban in obesity fight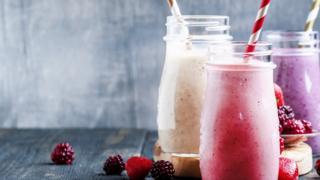 Smoothies and fruit juices could be banned from school canteens, as part of a campaign to tackle childhood obesity in Scotland.
The Scottish government wants to impose lower sugar limits on school meals in a move that would also affect yoghurts and some breakfast cereals.
A consultation is due to be carried out on the plans, which include increasing the amount of fruit and vegetables.
First Minister Nicola Sturgeon wants to cut child obesity by half by 2030.
Around 29% of children in Scotland are at risk of being overweight, and 14% are at risk of being obese.
John Swinney, Scotland's education secretary, told BBC Radio Scotland that ministers wanted to strengthen the "already very high standards" expected for school meals.
Speaking on Good Morning Scotland, he said: "Some products like fruit juice, for example, which I know children and young people might enjoy having, have a very, very high sugar content within it.
"So we're trying to give the very clearest direction to move away from products of that type within our school meal availability and to make sure that we take the right decisions to reduce sugar content overall and to expand the healthier ways that young people can balance their diet through increased fruit and vegetable intake."
The Scottish government's proposals include:
providing a minimum of two portion of vegetables and a portion of fruit as part of a school lunch
introducing low sugar limits for foods such as breakfast cereal and yoghurts
reducing how often sweetened and baked goods are available in primary schools
no longer permitting fruit juice and smoothies in school meals at primaries and secondaries
regulation specifying how much red meat children should eat over a week
limit the amount of processed meat
Mr Swinney said children and young people would be encouraged to drink more water and milk.
And he said the overall objective was to make school meals as "attractive and nutritious" as possible.
The education secretary added: "This has to be seen within the context of the wider approach to health and wellbeing within the curriculum where, throughout the broad general education we are encouraging young people to be much more aware of health and wellbeing and indeed it's a central part of the approach that health and wellbeing has to be appreciated and understood by young people."
Asked if the "fast food element" of school meals had gone too far, he said "I think that's a fair comment".
"What we're trying to do with the regulations that we're consulting on now is to give the clearest possible signal that we want everybody involved in the production of school meals, whether it's within an individual school kitchen or at a wider level, where a number of schools are serviced by a particular centre, that these are the standards we expect and that we think they will give the best opportunities for young people as a consequence of their participation in meals of this type."
Brian Whittle, a Scottish Conservative MSP who has campaigned for better school meals, told The Kaye Adams Programme that nutritious school meals were "fundamental" to tackling health inequality, obesity, as well as mental and physical health problems.
But he said school food procurement was being controlled by the "bean-counters rather than nutritionists".
He said new schools were being built without kitchens and pre-packaged food was being imported from abroad.
"What we have to do is procure locally high nutritional value food," he said.
"We have to encourage the kids to be involved in how they develop that menu and give them the chance to actually act on the learning they have in schools and actually eat healthy food. It's kids' relationship with food and physical activity and drink that we have to change."
Last month the Scottish government's childhood obesity target received the backing of celebrity chef Jamie Oliver.
The target is part of a healthy weight and diet plan due to be published in the summer. It is expected to include plans to restrict promotions and advertisements of junk food, including multi-buy deals on unhealthy products.