New laws 'not needed' on football behaviour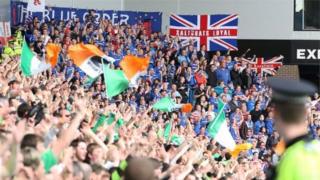 New laws to tackle offensive behaviour at Scottish football matches are not needed, a senior judge has concluded.
Lord Bracadale said football hate crime could effectively be dealt with using existing laws - for example breach of the peace.
The Scottish government's controversial Football Act was repealed by opposition MSPs at Holyrood earlier this year.
At the time, the government criticised its opponents for not proposing anything to replace it.
But Lord Bracadale, who was commissioned by the Scottish government last year to examine the country's hate crime laws, said no new legislation was required to specifically cover football matches.
His report also says the country's hate crime legislation should be expanded to cover offences aggravated by somebody's gender or age.
And he says all of Scottish hate crime laws should be consolidated into a single piece of legislation.
What does the report say about football?
Lord Bracadale says someone singing or shouting racist words at a football match could be charged with a racially aggravated breach of the peace, or behaving in a threatening or abusive manner.
He added: "Thus, hate crime offences committed in the context of a regulated football match held in Scotland could be prosecuted in Scotland under pre-existing criminal law.
"This would extend to behaviour occurring outside the football ground or on a journey to or from a match."
Opposition MSPs united at Holyrood to repeal the Football Act in March, arguing that it was unworkable, unnecessary and treated football fans as "second class citizens".
The Scottish government argued that scrapping the legislation would send out the message that parliament was happy to allow "toxic behaviour" at matches to go "unchecked and unchallenged".
And it said the act should be "strengthened and improved" rather than repealed.
What are the other key recommendations?
Lord Bracadale says new age and gender aggravations should be introduced in addition to the existing hate crime laws, which currently cover race, religion, disability, sexual orientation and transgender identity.
He also says it should be an offence to "stir up" hatred by encouraging others to hate people who have one of the protected characteristics.
Current law only deals with the stirring up of racial hatred, but Lord Bracadale says it should be extended to apply to all of the protected groups.
However, he stressed that the legal provisions should include measures that protect freedom of expression.
What are aggravated offences?
Hate crime aggravations apply when someone is convicted of an offence, such as assault or breach of the peace, which involves hostility based on one of the protected characteristics.
This can include words uttered in the heat of the moment while the offence is being committed, for example using a racial or religious expletive while assaulting someone.
The aggravations are not specific offences, but are used to flag up the hate aspect of a crime - which the judge can take into account when passing sentence.
What else does his report say?
Lord Bracadale makes a total of 22 recommendations, which also include:
A suggestion that courts could be allowed to recognise offences that involve the exploitation of vulnerable people - for example fraud offences against elderly or disabled people
Intersex should be made a separate characteristic from transgender identity, and consideration should be given to removing outdated terms from the definition of transgender
No new legislation is needed to tackle online hate crime as existing laws are sufficient
How big a problem is hate crime in Scotland?
There were a total of 5,708 hate crime charges in Scotland in 2016-17, including 3,349 racial, 673 religious, 1,075 LGB, 40 transgender and 188 disability hate crimes.
It is widely accepted that the real level of hate crime is far higher than reported in official statistics, as a significant number go unreported.
Police have also warned that many recorded instances of hate crime have an online element as increasing numbers of youngsters use social media to bully their peers or hide behind fake online accounts.
The Scottish government has stressed that Scotland is an "open and inclusive nation" but is not immune from the threat of racism, intolerance and prejudice.
What has the Scottish government said?
Community Safety Minister Annabelle Ewing said she agreed that Scotland's hate crime laws should be consolidated into a single piece of legislation.
And she said the Scottish government would use the report as a basis for wider consultation with communities and groups across the country on how to bring forward new legislation that is fit for the 21st century.
She added: "We have been consistently clear that legislation alone will not achieve the inclusive and equal society that we aspire to, however the laws passed by parliament do form a clear basis for what is and is not acceptable in the communities we are elected to serve."
What other reaction has there been?
Both Scottish Labour and the Scottish Liberal Democrats said the judge's conclusion that specific laws around football were not needed was an "embarrassment" for the government.
Human rights group Amnesty International welcomed the "clarity and consistency" the recommendations would bring to hate crime laws, and urged ministers to act on them.
And the Scottish Greens welcomed the recommendations around "age hostility", which the party said would help to to end discrimination and "negative stereotypes" towards both young and old people.