Sturgeon tweets Growth Commission defence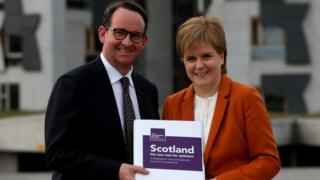 Nicola Sturgeon has defended the SNP's Growth Commission report amid heavy criticism from opposition parties and some independence supporters.
In a series of twitter posts, the first minister insisted the commission had set out an alternative to Westminster's "austerity" and "Brexit spiral".
The commission's long-awaited economic report was published on Friday.
Among its recommendations were for an independent Scotland to keep the pound, but without a formal currency union.
The move would see the Bank of England continue to set interest rates and other monetary policy in the years after independence.
Separate currency
Many independence supporters have called for a separate Scottish currency to be set up - but the commission said this option should only potentially be considered after a transition period of about a decade, and even then only if six key economic tests were met.
The commission also said it would take 10 years to get Scotland's deficit rate under control after independence, which it insisted would be done through sensible budgeting - although not by austerity.
Ahead of its publication, Ms Sturgeon predicted that the 354-page document would "restart the debate" on Scottish independence.
But writing in the National newspaper, former SNP MP George Kerevan said the commission's report "sticks to the very currency option that helped defeat the independence proposition back in 2014".
And he warned that "the broader Yes movement - including most SNP members I would venture - will not knock on doors for sterling".
Other pro-independence commentators have accused the commission of offering a "timid" vision of Scotland's future, while others have said austerity is "baked into" its recommendations, and that there is little in it that George Osborne would disagree with.
Ms Sturgeon, who is currently considering the report's conclusions, took to Twitter on Wednesday morning to launch a staunch defence of its proposals.
She welcomed the many "interesting comments" that she has read about the report and said it was "so much better to be discussing how to build a successful independent Scotland than just resigning ourselves to managing the decline of Brexit UK".
The SNP leader went on to stress that the commission had "explicitly rejected the austerity model pursued by the UK in recent years, and had recommended above inflation spending growth each year".
If further tweets, she said the commission had shown that "even in worst case scenario independence is a better option than sticking with Westminster system that created the deficit."
And she said that "with the powers of independence" and by following the report's advice, Scotland could match the success of other small countries in achieving "higher growth, more revenue and increased prosperity and fairness".
What has the reaction been?
Scottish Conservative deputy leader Jackson Carlaw claimed that Ms Sturgeon's tweets were a "visibly desperate move by the first minister, who has clearly been rattled by the furious reaction of hardcore independence evangelists in recent days".
He added: "This report made abundantly clear that a separate Scotland is likely to bring nothing other than economic hard times
"The authors accepted this, perhaps Scotland's first minister should too. After all, in establishing her commission, she created the beast which has now turned to bite her."
And Scottish Labour leader Richard Leonard said: "The SNP promised a Growth Commission, but Nicola Sturgeon has found herself defending a Cuts Commission.
"The people of Scotland cannot afford another decade of austerity. Scotland has over a quarter of a million children living in poverty and pensioner poverty has increased by 33% since 2010. We do not want another decade of austerity."