Chief inspector asks 'what next for Scotland's jails?'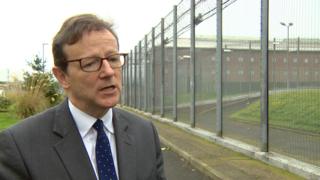 Scotland's prisons' watchdog has called for greater emphasis on developing offenders' potential for good rather than focusing on their past wrongs.
David Strang is stepping down after five years as HM Chief Inspector of Prisons for Scotland (HMIPS).
In a valedictory address he said the purpose of the criminal justice system is to reduce the number of victims of crime by preventing offending.
And he asked if imprisonment contributes to crime reduction.
Scotland has one of the highest rates of imprisonment in Europe and Mr Strang, a former chief constable of Lothian and Borders, said during his inspections he had seen too many people jailed for short terms whose incarceration was more likely to result in further victims of crime.
'Unhelpful barriers'
Speaking in Edinburgh, he said it was important to ensure that when people leave prison at the end of their sentence they are less likely to return there in the future - and that meant reducing barriers to successful reintegration.
"Too often society puts these unhelpful barriers in place for those who most need support to get back into the employment market," he said.
"If we are serious about rehabilitation and successful reintegration, rather than focussing only on the past wrongs a person has committed, we should put much greater emphasis on developing the potential for good that lies in them.
"Much of what people in prison need cannot be delivered by the Scottish Prison Service (SPS) alone. Provision of throughcare services before and after their liberation are essential to successful reintegration.
"These responsibilities lie not just with the SPS, but with wider services such as education, housing, healthcare, employment and welfare benefits.
"Fundamentally these are dependent not so much on the criminal justice system, but on wider social justice issues of poverty, inequality, exclusion and marginalisation."
Mr Strang said Scotland had much to be proud of in the way its prisons are run, but greater use should be made of community disposals such as electronic monitoring or tagging to manage people in the community rather than in prison."
He said he recognised a prison sentence should be reserved for people who have committed serious crime or pose a significant risk to public safety.
But he said imprisoning people for short periods is counterproductive as they were more - not less - likely to reoffend after serving a short custodial sentence.
Risk of reoffending
And he called on improvements to the way prisoners are treated at the end of their sentence.
"I see too many people who on their day of liberation do not know where they will be living. Many end up homeless, or in very temporary - and often unsuitable - accommodation.
"The consequences of this are clear: it is too easy to revert back to their previous lifestyle of reoffending in the company of unhelpful influences, and any positive progress made in prison is lost," he said.
"I have seen too often people leaving prison with approximately £75 in their pocket and with the prospect of having to wait several weeks before being eligible for basic benefits.
"We should not be surprised in these circumstances that people are at risk of returning to reoffending and a possible future prison sentence."
In his speech, What next for prisons in Scotland?, Mr Strang said more needed to be done to reduce the number of women jailed.
SPS has announced it is to replace the national women's prison at Cornton Vale near Stirling and provide smaller Community Custody Units (CCUs) in Glasgow and Dundee.
But the chief inspector said plans are for a total of 230 places in prison for women across Scotland - and the current number in custody remains stubbornly high at more than 350.