'Historic' islands bill passed by MSPs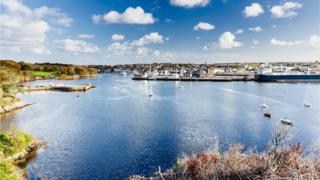 "Historic" legislation to offer greater protection and powers to Scotland's island communities has been passed.
The Islands (Scotland) Bill was unanimously backed by MSPs at Holyrood.
It gives island councils extra powers over activities on and around their coastlines and requires ministers to have a long-term plan for improvement.
Islands minister Humza Yousaf said the passage of the bill was "an important milestone for island communities".
MSPs also agreed an amendment to the bill barring public bodies from putting Shetland in a box on maps of Scotland.
The bill includes the creation of a "national islands plan" to set a long-term improvement strategy, extended powers for island councils over areas like marine licensing, and protection for the boundaries of the Holyrood constituency of Na h-Eileanan an Iar.
The new requirement on maps of Shetland came through an amendment from the islands' MSP Tavish Scott.
He called for a requirement on any public bodies publishing documents including maps of Scotland to display them "in a manner that accurately and proportionately represents their geographical location in relation to the rest of Scotland".
The Lib Dem MSP said the common practice of placing Shetland in a box off the Aberdeenshire coast or Moray Firth was "intensely annoying" to islanders and gave a false impression of the challenges they face on account of their remote location.
Mr Yousaf accepted that this was a "really serious issue" in perception of the islands. He amended Mr Scott's amendment to insert a get-out for public bodies to break the mapping rule if they could provide a good reason why, and MSPs unanimously supported the move with this change.
'Contribute hugely'
In the final debate, Mr Yousaf said the bill was "unique", as "one of the world's first and only place-based laws".
He said: "That is entirely fitting for our islands, which contribute so much to our culture, our landscape, our heritage, which have inspired poets, songwriters, composers, artists, and which attract visitors from near and afar.
"They have contributed hugely to our past and our present, and with this bill and other measures will now have the opportunity to contribute even further to their own and our collective futures."
Scottish Conservative MSP Peter Chapman welcomed the bill and amendments that were made by opposition parties, but warned that island communities must be properly resourced.
He said: "Across this chamber there has been a tone of hope and expectation for what this bill will achieve for our island communities.
"But it must also be recognised that much of the disadvantages faced by our island communities can only be addressed if there is necessary money allocated to make things happen. Without that budgetary commitment, many of the aspirations contained in this bill will remain just that. I sincerely hope that is not where we end up."
'Drift of centralisation'
Labour's Colin Smyth also welcomed the bill, but it "could have gone further" by giving more powers to island local authorities".
He said: "We would have liked to have seen the bill devolve more powers to our island communities, really empowering those communities, putting local experience and expertise at the heart of decision-making - and in doing so, reversing the drift of centralisation in Scotland in recent years.
"More and more powers have rightly come to the Scottish Parliament from the UK parliament, yet little has been done to devolve power from this parliament to our local councils."
Green MSP John Finnie also hailed the bill as an "excellent example of cross-party work".
He said: "It's a good template for how we should be doing business, and I do think it will turn out to be a historic piece of legislation."