NHS treatment time performance at record low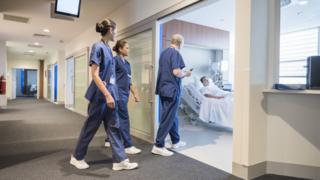 A quarter of eligible NHS patients are not being treated within a legally-binding timescale, the latest statistics have shown.
Planned inpatient and day care treatment must start within 12 weeks under the Scottish government's Treatment Time Guarantee (TTG).
But only 75.9% of patients were treated within this timescale in the past three months.
This was down from 80.4% in the previous quarter.
The latest figure was the lowest since TTG was introduced in October 2012.
NHS Forth Valley had the poorest performance at 56%, followed by NHS Lanarkshire at 63% and NHS Grampian on 64%.
In March of last year, 82.1% of patients started treatment within the 12-week limit, with the figure at 92.7% in March 2016.
The report said that the number of inpatients and day cases seen has decreased since 2014, while the number who waited over 12 weeks has increased.
The Treatment Time Guarantee states that eligible patients must start to receive treatment within 12 weeks (84 days) of the treatment being agreed.
Since its introduction, 134,804 patients have experienced a wait of more than 12 weeks and 1,567,574 have been treated within 12 weeks
The latest figures showed that 16,772 patients due to receive planned inpatient or day case treatment waited longer than the 12-week target in the three months to March.
Separate waiting times statistics released on Tuesday showed that:
81% of patients were seen within the 18-week referral to treatment standard during March. The target is 90%.
The figure was unchanged from January and February of this year - but about ten percentage points lower than in 2012, when the 18-week standard was introduced.
80.6% of patients waiting for a key diagnostic test at 31 March had been waiting less than the six week target, compared to 79% in December and 87% last March.
Weekly waiting time figures in A&E departments were the best for six months, with 92.9% of the 27,915 patients dealt with within four hours.
That is the best A&E performance since the week ending 12 November 2017 - but still below the Scottish government target of 95%.
The NHS says waiting times are important to patients and are a measure of how the health service is responding to demand.
It says regular reporting of waiting times statistics allows delays in the system to be highlighted, and the effectiveness of NHS Scotland's performance to be monitored.
The Scottish government announced on Monday that health boards across the country would be given an extra £50m to help reduce long waits for treatment.
Health Secretary Shona Robison said the additional cash would allow regional NHS boards to "best target funding where it is most needed".
Ms Robison said the period covered by the latest statistics included "a challenging winter for the NHS and severe weather in early March which caused disruption that took hospitals time to recover from".
'Dedication of staff'
She added: "It is testament to the hard work and dedication of staff that the average wait for patients receiving treatment within the treatment time guarantee was eight weeks, and that 1.6 million patients have received their treatment within the guarantee since it was introduced."
Scottish Labour accused Ms Robison of creating a "blizzard of spin" in her attempts to explain NHS performance.
The party's health spokesman, Anas Sarwar, said: "No one will buy Shona Robison's attempts to hide behind a week of extreme weather to explain poor performance for three months.
"The real reason for these figures is Shona Robison's complete and utter failure to manage the health service properly.
"NHS staff deserve better than a health secretary who delivers a blizzard of spin rather than the resources they need. Shona Robison should do the decent thing and go."
The Scottish Liberal Democrats said patients were being "systematically failed" by TTG, and called on First Minister Nicola Sturgeon to "personally issue an apology to the tens of thousands of people to whom it proved utterly meaningless".