'Peaceful protest' allowed if Trump visits Scotland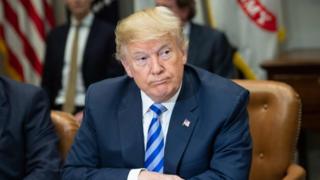 Police will ensure that people are allowed to "protest peacefully" during any visit to Scotland by Donald Trump, MSPs have been told.
There has been speculation that the US president will include the country in his trip to the UK in July.
The Scottish government says it has not yet been told whether he is coming.
But Community Safety Minister Annabelle Ewing said the country's "proud and longstanding tradition of peaceful protest" will be maintained if he does.
Mr Trump has several connections to Scotland, owning golf resorts in Ayrshire and Aberdeenshire, and his mother was born in Lewis in the Outer Hebrides before emigrating to America.
Speaking in January, he described his regret at not being able to visit Scotland since he became president, describing the country as a "very special place" with "very special people".
Speaking at Holyrood, Green co-convener Patrick Harvie said many Scots would want to express "their revulsion at the racism, the misogyny, the climate denial and the litany of lies President Trump is responsible for".
He asked Ms Ewing to "ensure the right to protest is not restricted in the event of a visit to Scotland by Donald Trump".
Ms Ewing said the Scottish government had not yet "been advised by the UK government of any proposed visit to Scotland", but said it remained in contact "regarding the development of the itinerary for the president's visit".
She said there was no law in Scotland to prevent people from protesting in a peaceful manner.
Ms Ewing added: "Police Scotland has confirmed arrangements are in place to police any visit in a way that maintains the public's right to protest peacefully, whilst enforcing existing laws as necessary."
She also said the list of areas in which the Scottish government disagreed with Mr Trump was "a bit too long to mention at this particular point".
"On the nature of any policing operation, obviously that is an operational matter for the police", Ms Ewing continued.
"Scotland of course has a very proud and longstanding tradition of peaceful protest and I can assure (Mr Harvie) that will continue."
'Ancestral home'
It was confirmed last month that Mr Trump will visit the UK on Friday 13 July, with the trip expected to include a meeting with the Queen.
However, it will not be the full-blown state visit Mr Trump was promised when Prime Minister Theresa May visited the White House in January last year.
The president was recently urged by UK-based supporters to stay away from London during his visit and instead focus on his "ancestral home" in Scotland.
First Minister Nicola Sturgeon has been a vocal critic of Mr Trump, and stripped him of his role as a business ambassador for Scotland in 2015 after he proposed a ban on Muslims entering the United States.
But last year, Ms Sturgeon said she would agree to meet the president if he was to come to Scotland.