Ballots sent out in SNP deputy leadership race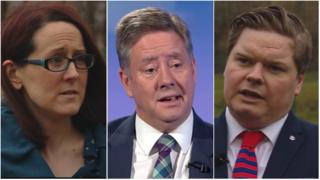 Ballots are being sent out in the contest to elect the SNP's new deputy leader.
The party is looking for a new deputy for Nicola Sturgeon after Angus Robertson stepped aside, having lost his Westminster seat in June.
The three candidates bidding for the job are MSP and Scottish Economy Secretary Keith Brown, councillor Chris McEleny, and activist Julie Hepburn.
The result is to be announced at the SNP conference in Aberdeen on 8 June.
A series of hustings events have been held across Scotland, with the three candidates putting their arguments forward to local members.
'Now is the time'
The race has become characterised in part by the question of Scottish independence, with Mr McEleny using his candidacy to push for a new referendum inside the next 18 months.
The Inverclyde councillor said: "If SNP members decide to elect me then they're supporting that message, that now is the time.
"We need to start a new Yes campaign right now so we can get better answers on pensions, and currency, and the economy, so we can take those answers to every community across Scotland to make the case for independence.
Ms Hepburn, a former member of the SNP's national executive committee who is campaigning for internal reforms in the party, also wants a fresh vote on independence before the next Holyrood poll in 2021.
She said: "I think we should go for a referendum before the election. We have a clear mandate and I do believe we should use that mandate and that we will use that mandate.
"It's about leaving our options open and giving the first minister the flexibility to hold the referendum at the best moment."
Brexit clarity
Mr Brown, a former commando who has served as an MSP since 2007, said there needed to be clarity over Brexit before another vote is held.
He said: "Some are very concerned that we hold it only at a time where we're absolutely certain to win it, but you can never have that certainty.
"Some want to have it as soon as possible because they see the damage being done to Scotland by the UK government and its actions.
"It's right that we take into account the views of the people of Scotland in relation to this. They're facing the Brexit proposition right now and we have to have some clarity around that."