Nicola Sturgeon opposes giving all prisoners the vote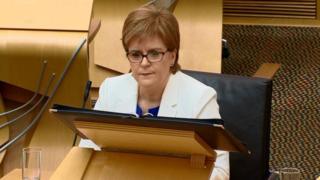 Nicola Sturgeon has said she does not believe prisoners jailed for the most serious crimes should be allowed to vote in elections in Scotland.
The first minister was speaking after a Holyrood committee called for all prisoners to be given the right.
Ms Sturgeon told MSPs they had a duty to listen to the victims of crime before making a decision on the issue.
But she stressed that: "I am not of the view that this should lead to the enfranchising of all prisoners."
Only prisoners on remand and those on a tag serving a sentence in the community are currently allowed to vote in UK elections.
But an Equalities and Human Rights Committee report published earlier this week recommended extending this to all prisoners, regardless of what crimes they had committed, for Holyrood and council elections in Scotland.
Ms Sturgeon said she was "to say the least, sceptical" that this would need to be done in order for Scotland to comply with the European Convention on Human Rights (ECHR).
And she told First Minister's Questions at Holyrood that a "grown-up" debate over the "sensitive" issue was now needed, but that she was "not making any criticism" of the committee's report.
Ms Sturgeon was speaking in response to Conservative MSP Murdo Fraser, who highlighted the views of campaigner John Muir, whose son Damien was stabbed to death Greenock in 2007.
Mr Fraser - who welcomed Ms Sturgeon's reply - quoted Mr Muir as saying that giving prisoners such as his son's killer the vote would be an "obscenity" and an "insult".
Ms Sturgeon said: "These are difficult and sensitive issues, but we now have a power devolved to us that was previously reserved.
"Therefore, we have an obligation to make sure that our laws in this country are compliant with the European Convention on Human Rights, but it is my view that we should not give the vote to all prisoners.
"I am certainly not persuaded of enfranchising prisoners who are in prison for the most serious and heinous crimes and are perhaps in prison for lengthy periods of time."
However, Scottish Greens MSP John Finnie argued that the right to vote is enshrined in the Universal Declaration of Human Rights, and that "voting is not a privilege" but a "basic human right".
---
Why is this an issue?
A court in Strasbourg ruled in 2004 that a blanket ban on all British prisoners voting contravened the European Convention on Human Rights (ECHR).
But in 2017, the UK government announced a compromise, which satisfied the court, allowing a limited number of prisoners the vote.
Responsibility for deciding who votes in Scottish Parliament and council elections is now the responsibility of Holyrood, with MSPs examining how to ensure the new devolved laws are compliant with the ECHR ruling.
Proposals to allow prisoners to vote in the independence referendum in 2014 were rejected at the time by Holyrood, with legal challenges from prisoners who wanted take part in the vote also being dismissed by the courts.
What did the Equalities and Human Rights Committee say about it?
On Monday, a majority of MSPs on the committee said the current ban should be lifted for all prisoners, regardless of what crimes they have committed and what sentences they are serving.
Committee convener Christina McKelvie - an SNP MSP - said prisoner voting was a fundamental issue which struck at the heart of questions such as the purpose of prison and the rights and responsibilities of a citizen.
She said: "After careful consideration of this issue, we, as a cross-party committee, have come to a conclusion that the current ban should be lifted, and the right to vote be restored to all prisoners.
"We are acutely aware that prison is a place people go to be punished, and that there will be individual cases people find distasteful; but we need to think about rehabilitation, and not further excluding and alienating people from society."
The committee's recommendation was backed by SNP, Labour and Liberal Democrat members of the committee, as well as by the Scottish Greens, but was opposed by the Conservatives.
Ms Sturgeon said the Scottish government would respond to the committee's recommendations in due course.