MSPs demand changes to planning reforms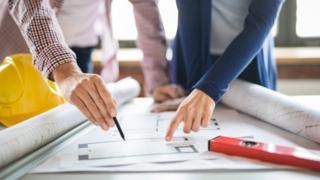 MSPs on Holyrood's local government committee have called for widespread changes to planning reforms.
The Scottish government has put forward a Planning Bill in a bid to overhaul the current system and give local people more of a say.
The committee said not enough was being done to soothe community frustrations over parts of the planning system.
Members also questioned some powers being taken on by ministers, and called for one section to be removed entirely.
Planning minister Kevin Stewart said he would respond to the committee's recommendations in due course.
'Empower communities'
The government put forward the Planning (Scotland) Bill as a package of "reforms that will strengthen the planning system's contribution to inclusive growth, housing and infrastructure delivery and empowering communities".
While recommending that MSPs agree the general principles of the bill when they vote on it for the first time, the local government committee called for a series of changes and amendments to be made.
Its report, which runs to more than 100 pages, includes a wide range of recommendations and requests for clarification from ministers.
Opposition members said the bill was a "missed opportunity" which has "failed to read the public mood".
Committee members said the current proposals were not enough to soothe frustrations felt by local people over the existing planning system.
They wrote: "It is clear to the committee that many communities feel frustrated by the planning system. Previous attempts to front-load the system have not been successful. The committee is not persuaded that proposals in this bill go far enough to address that."
The committee said that planning appeals "should only be allowed in certain circumstances", and also said there should be rules to "limit or deter" repeat appeals and repeats of applications which have previously been refused.
MSPs also called for a section on monitoring the performance of planning authorities to be scrapped outright, saying there was "no need or justification" for it.
And they called for protection for music venues which ministers have pledged to include in development plans to be added into the legislation.
Members questioned powers which would be handed to ministers by the bill, saying it was not clear how or if they would be used.
They wrote that "it is not good legislative practice for powers to be granted only for them to either lie on the statute books unused or for subsequent governments to seek to use them many years later, potentially in ways not originally envisioned.
In particular, MSPs said they were "concerned" about powers the bill would give ministers to redistribute funds from an infrastructure levy around the country, saying funds should be spent in the local areas where they are collected.
They suggested adding a "sunset clause" to parts of the bill, so that powers would expire after a certain amount of time if they are not renewed.
Committee convener Bob Doris said: "A clear theme running through our report is the importance of empowering communities to have a meaningful say on the kind of place they want to live in. Communities being able to help shape their area by working with planning authorities early on makes for better places.
"It remains the case that more disadvantaged communities could lose out on shaping their local areas because of a lack of money, time and capacity, which we think may widen inequality. That's why we've called for communities to be supported so that planning works for everyone."
What does the government say?
Planning minister Kevin Stewart welcomed that the committee recommended MSPs agree the general principles of the bill, and said he would respond to other points in due course.
He said: "The aim of our planning reforms is to create an effective planning system that will help deliver the housing, infrastructure and investment that current and future generations need.
"The proposals in the bill have been developed through an extensive process of engagement with stakeholders, and are based on the recommendations of an independent panel."
Mr Stewart has also insisted in evidence to the committee that the bill will see powers "flow to communities" via local place plans, "which will allow communities to have a greater say in their neighbourhoods and areas".
What do opposition parties say?
The Scottish Conservatives said the planning bill was "an attempt at a sinister power grab by ministers" which "will be resisted".
Planning spokesman Graham Simpson said the committee report laid bare the bill's "multiple failings", adding: "There is nothing in the bill which would deliver anything - more housing, better communities, or a better environment. It's all about power.
"The Scottish Conservatives welcome the committee's report and will be tabling amendments to create a fairer, slicker planning system that respects what we have but which delivers what we need in the future."
Scottish Labour said the government had "failed to read the public mood on planning".
MSP Monica Lennon, who is also deputy convener of the committee, said: "Planning appeals should be the exception in a plan-led system but in situations where appeals are justified, we believe communities should have rights too.
"Good developers with good applications should feel positive about the opportunity to improve public confidence in planning and we look forward to working with communities, businesses and organisations across Scotland who want to see planning working for them."