MP's identity 'stolen by drug dealer'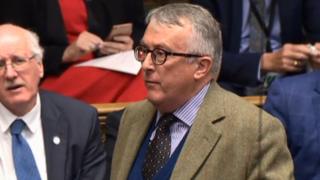 A Scottish MP has fallen victim to identity theft by a suspected drug dealer in Manchester.
Jamie Stone, the Lib Dem member for Caithness, Sutherland and Easter Ross, said he was initially accused of having been in a car crash in Salford.
He said Greater Manchester Police had told him that "it is likely a drug dealer in Manchester stole my identity".
MPs greeted Mr Stone's announcement with calls of "free the Caithness one".
Speaker John Bercow said Mr Stone had written to him about the incident, saying that "he has no reason whatsoever to apologise".
The MP became aware of the matter when he was contacted by police about a crash in Salford on 18 April, warning him that he faced a fine of £1,000 and six points on his driving licence.
He said he had been in parliament on the day in question, and said it was "a clear example of identity theft".
Mr Stone added: "The Greater Manchester police have been most helpful, they tell me it is likely a drug dealer in Manchester stole my identity.
"He has put down my occupation, you will be interested to know, as cobbler."
Junior minister Oliver Dowden said the perpetrator should have recorded Mr Stone's profession as "orator and statesman", but said the government would work with police to "deter and disrupt" criminals.