Leonard calls for cross-party talks to break Brexit deadlock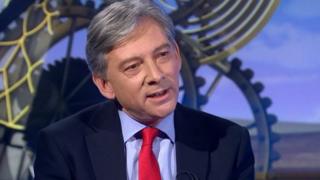 Richard Leonard says cross-party talks are needed to break the Brexit deadlock.
The Scottish Labour leader has written to Cabinet Office Minister David Lidington and Scottish Brexit minister Michael Russell.
He wants to see the UK and Scottish governments and all political parties around the table to get negotiations moving on the EU withdrawal Bill.
He says all of the parliament should have input.
Scottish Brexit Minister Michael Russell said it was unclear what views the other parties would have and pointed out that he meets representatives from the other parties on a regular basis.
Mr Leonard, speaking on BBC Scotland's Sunday Politics Scotland programme, said: "As there appears to be a breakdown in trust between the two governments, there really needs to be an alternative way found forwards.
"There is a lot at stake with the EU Withdrawal Bill and the devolution aspect of it, and it appears that we are heading towards a situation where the Scottish Parliament on Tuesday will almost certainly vote down a legislative consent motion on the EU Withdrawal Bill because of the treatment of devolution within it the way it is currently constructed.
"I think there is still an opportunity to find a constructive way forward which will allow us to find agreement, because I think that is, in the end, where we want to be.
"I am suggesting that there needs to be, at this stage, a widening of the discussion around a resolution which will involve other parties beyond those who are represented in the two governments."
'Fresh eyes'
Mr Leonard believes there should be a meeting which also involves the Liberal Democrats, Scottish Labour and the Scottish Greens to explore if the group can together find a way through the deadlock.
He said: "There are 24 areas of EU repatriated powers which clearly, in my view, have some intersection with devolved powers and they are still in dispute.
"There are some which are, fairly obviously to me, clearly devolved, like public procurement but there are some which probably are best set at a UK internal market level like food labelling, but they remain outstanding issues.
"I think there needs to be a fresh set of eyes to find our way through that."
Mr Leonard agreed with the Scottish government's position that the parliament should have a veto power over any proposals to keep issues at a UK level.
But he said what those things are should be agreed and voted on by the Scottish Parliament.
'At odds with Wales'
He said he felt there were many powers being repatriated from the EU as a result of Brexit which fall fairly to the devolved parliament.
And he said he believed there was a way to break the deadlock.
Mr Leonard said: "I think that the Labour Party, as the party that delivered devolution, which has got a different tradition in a sense from either the SNP government in Edinburgh or the Tory government at a UK level, can bring to bear a way through this."
"There is a role for Labour, LibDems and the Greens."
However, Scottish Brexit Minister Michael Russell said it was unclear to him exactly what views the other parties would have.
He said: "I meet with people from other parties on a regular basis and give them a full account of the discussions. If they have a view about what is not being done I would like to hear it now.
"If the UK government wants to widen the discussions and we are agreeable on a way to do so, we could do so but I think it would have to be on the basis there was something worth working on and as yet I have not heard that from them or anyone else.
"Labour know perfectly clearly what the position of the Scottish Parliament is and, of course, Labour will have the chance to influence that themselves on Tuesday when I hope the whole parliament will say the power grab is unacceptable."
Richard Leonard's position puts his party at odds with Labour in Wales, which had teamed up with the Scottish government to refuse granting consent, but struck a deal with UK ministers last month.
The Scottish government insists it cannot back the EU Withdrawal Bill, claiming measures within it could leave Holyrood constrained by Westminster for up to seven years.
Both sides have agreed the need to create UK-wide frameworks in some areas but Scottish ministers insist Holyrood's consent should be formally sought for any changes, while UK ministers say a veto for any part of the UK is a "red line".