Call for Scottish breast cancer drug deal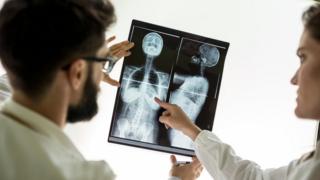 Ruth Davidson has called for a deal to allow a breast cancer drug that is offered to patients in England to be made available in Scotland.
Perjeta is said to prolong the lives of women with incurable breast cancer by up to 16 months.
But it has been rejected three times for routine use in the Scottish NHS.
Ms Davidson, the Scottish Conservative leader, said it meant some breast cancer sufferers had to move south "for a chance to live longer".
First Minister Nicola Sturgeon stressed that decisions on making particular medicines available for routine access through NHS Scotland were taken independently by the Scottish Medicines Consortium (SMC).
Not cost-effective
The consortium rejected Perjeta, which is manufactured by Roche and is also known as Pertuzumab, for a third time in June 2017 on the basis it was not cost-effective.
It is available through the NHS in England and Wales after a deal was reached with Roche over the price of the drug.
The charity Breast Cancer Now has said the treatment can prolong the lives of women with incurable HER2 positive metastatic breast cancer by up to 16 months.
Raising the issue at First Minister's Questions, Ms Davidson said delays in implementing a better system for negotiating on the cost of medicines in Scotland had left cancer sufferers facing the prospect of moving south to receive treatment.
Ms Davidson said: "In Scotland today, women with secondary breast cancer are faced with a choice - they can move home for a chance to live longer, or they can stay put in the knowledge that that chance is denied them here.
"We urgently need a deal on Perjeta and we need to fix the system now."
'Fix the system'
Ms Davidson said Health Secretary Shona Robison had promised a new system of negotiating on the cost of medicines in December 2016.
She added: "It is now May 2018 - 17 months later - so what is taking this government so long to fix the system to help get access to medicines like Perjeta?
"And can the first minister give the exact date that her government will put in place the new negotiating system that she promised, so that we have greater access to treatments that let people live longer and have better quality lives?"
Ms Sturgeon responded by saying that officials were currently in talks with the manufacturer aimed at achieving a "fair and transparent price".
She said there was an "ongoing process of implementing reforms" to the procurement process, but added that did not remove the need for "very close consideration of individual applications".
"These are difficult decisions, and it's right that we support the SMC to take these decisions," she said.
"If what Ruth Davidson is encouraging the company to do is make sure that the price that is being offered to NHS Scotland is as reasonable, fair and transparent as the price that has been offered elsewhere in the UK, then I would certainly endorse that.
"Hopefully the discussions that are under way will lead to exactly that."