Date set for Holyrood consent vote on EU Withdrawal Bill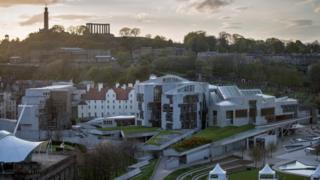 MSPs are to vote next Tuesday on whether to back the UK government's Brexit bill, it has been confirmed.
The Scottish government said it would not recommend consent unless more amendments are made to the Westminster bill concerning devolved powers.
The UK government said "significant changes" had already been made.
The Welsh government has agreed to a deal, but Scottish ministers said there was still a "key sticking point" around consent.
The row is over what happens to powers in devolved areas that return from Brussels after the UK leaves the EU, with the UK government proposing that the "vast majority" will go directly to Holyrood.
The Scottish and UK governments agree that some of the powers should form UK-wide frameworks similar to those currently in use across Europe to ensure the same rules and regulations remain in force across the the country.
But they cannot agree exactly how this should be done - with the Scottish government repeatedly accusing Westminster of a "power grab" on devolution.
Talks have stalled
Both governments insist they would like to come to a deal, but admit that talks have stalled in recent weeks.
Holyrood must vote on whether or not to give consent to the UK government's Withdrawal Bill before its final reading in the House of Lords, currently expected to be next Wednesday.
Scottish ministers have until 10:00 on Monday to put forward a legislative consent motion, which could potentially recommend members consent to parts of the bill but not others.
This motion can then be amended by opposition members, or ministers themselves if there are fresh developments before the final vote on Tuesday afternoon.
It has been widely assumed that any deal between the two governments would need to be reached before then.
The Scottish government has brought forward its own Brexit bill as an alternative in the event of no deal being agreed.
It was backed by Labour, the Scottish Greens and Liberal Democrats but is currently subject to a Supreme Court legal challenge from the UK government.
It is also possible for Westminster to legislate for Scotland without the consent of MSPs, as the devolution settlement only stipulates that they would "not normally" do this.
Scottish Brexit Secretary Michael Russell told BBC Scotland that his government remained willing to talk.
He added: "Next week the parliament will have to pass a legislative consent motion of some sort, either saying there is no consent or limited consent, and we face that as an inevitability.
"Fortunately, the Scottish government has put in place a continuity bill, so there is no cliff edge - whatever happens, we'll be making our preparations.
"There is always a possibility of an agreement, I look for that agreement, but we are also preparing to make sure that Scotland does not face a legislative cliff edge."
'Increasingly belligerent'
But Scottish Conservative constitution spokesman Adam Tomkins said the SNP was using "increasingly belligerent opposition to Brexit" to fuel talk of Scottish independence.
He said: "It's beginning to ring hollow, isn't it? We've got an agreement now between the UK government and the Welsh government - which is a Labour government - about how to manage Brexit in a manner which is compatible with devolution.
"It's now only the Scottish government who are holding out, on the flimsiest of premises it seems to me. We want the Scottish government to join the agreement that's been found between the UK government and the Welsh government so we can get on with the next stage in the negotiations.
"If it's good enough for Welsh Labour, I just don't understand why it's not good enough for the Scottish nationalists. It's a good deal - the UK government has compromised very significantly."