Sturgeon: Glasgow 'perfect place' for new Channel 4 HQ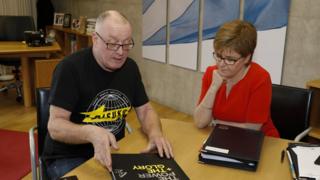 First Minister Nicola Sturgeon says Glasgow would be the "perfect place" for Channel 4's new headquarters.
The broadcaster is searching for a base and two other hubs outside London, with plans to move hundreds of jobs there.
Ms Sturgeon will tell a conference in the city that the "unique character" of Glasgow would be "a great fit for Channel 4".
Glasgow could face competition from cities such as Liverpool, Cardiff, Manchester and Birmingham.
The proposal to create a new headquarters outside London is part of a major restructuring planned by the channel.
Channel 4 will not sell its London headquarters, but plans to establish a new base to house "creative decision makers who are spending money".
The first minister is to address members of the television industry at the channel's diversity festival in Glasgow, two days before the city submits its bid to host the new headquarters.
She is expected to hail the city as "one of the most important centres for broadcasting and TV production anywhere on these islands", saying its "multicultural, welcoming, hugely creative and irreverent" character would be "a great fit" for Channel 4.
Indie sector
She will say: "Glasgow's production community is one of the biggest and most diverse in the UK - specialising across a wide range of genres.
"Our indie sector has provided some of Channel 4's biggest hits - like Location, Location, Location. And, as Channel 4 is well aware, we boast huge strengths in digital media and film production."
Scottish Secretary David Mundell welcomed Glasgow's bid.
He said: "Glasgow is a vibrant and creative city, which would be a fantastic choice for Channel 4's new headquarters.
"It is a city that inspires and challenges, nurtures diverse talents, and has a style all of its own.
"Glasgow has made an ambitious and creative pitch to be the new home of Channel 4. I'm absolutely certain it would be the right choice."
The Glasgow bid is being led by broadcaster and journalist Stuart Cosgrove, who said the city and the broadcaster were both "bold and provocative, with real heart".