Call for rethink of Scottish TV and film unit plan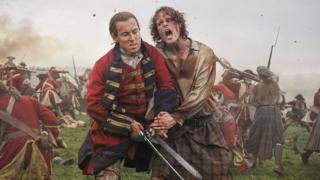 Plans to attract more film and TV productions to Scotland are inadequate, according to MSPs who have called for a radical rethink.
The Scottish government has backed proposals to create a screen unit within the Creative Scotland arts body.
Holyrood's culture committee said this risked being too "cumbersome" and "overly bureaucratic" for such a fast-moving industry.
It has called on ministers to instead set up an independent screen agency.
The MSPs said the move could help attract more major productions to Scotland, develop its creative sector and boost the country's profile to the rest of the world.
Work to set up the screen unit within Creative Scotland - whose board is accountable to and appointed by the Scottish government - is already under way.
But the committee said fresh plans should now be drawn up "for how it can be transformed into a standalone agency".
'New opportunities'
Its interim report said: "We want a vibrant screen sector in Scotland. That requires a standalone agency which is not encumbered by bureaucracy and is industry-led.
"An autonomous Screen Scotland will help nurture, develop and support indigenous talent, deliver more studio capacity, attract major productions and represent Scotland to the rest of the world."
The development of on-demand TV and movies has transformed the entertainment sector - with Netflix alone planning to spend up to £6bn commissioning new content this year alone.
Filming of TV drama Outlander has brought about £300m of investment to Scotland, but the committee said this was "an exception" and the country had "failed to invest in studio space and capitalise on these new opportunities".
The committee also said the forthcoming launch of the new BBC Scotland channel and a bid to bring Channel 4 to Glasgow could also offer new opportunities.
Committee convener Joan McAlpine, an SNP MSP, said: "Over the course of the inquiry it has become clear to us that the proposal for the screen unit, while a move in the right direction, will not deliver the transformation the screen sector in Scotland needs to be sustainable and successful in a fast-changing global market.
"We believe that ultimately the screen unit needs to be transformed into 'Screen Scotland', an independent screen agency with a wide-ranging remit to represent and promote the screen sector in Scotland."
'Exciting time'
While legislation at Holyrood would be needed to set up a standalone screen agency, the committee said it would publish further evidence for this in a full report in June.
"By publishing this report now we would like to signal that the Scottish government should establish a standalone screen agency for Scotland," the report concluded.
A Scottish government spokesman said it agreed that working alongside the industry was crucial, and it was committed to helping the sector seize the "many opportunities" ahead of them.
He said: "This is why we doubled screen funding this year to £20m. Along with this significant investment, the screen unit will better align public-sector support, help skills development, increase inward investment and support business growth."
The spokesman also said the screen unit would be led by "industry expertise" through the newly-created executive director post, with recruitment also under way for increased screen expertise on the Creative Scotland board.
"It is an exciting time for the screen industry in Scotland. Production spend has increased by 200% since 2007 and Scotland is securing major productions and attracting organisations such as the National Film and Television School," he added.