Kilcreggan to Gourock ferry contract terminated early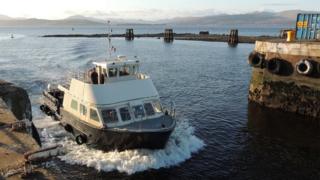 The contract for a troubled ferry service on the Clyde is to be terminated early after a series of disruptions.
Clydelink's publicly-funded contract for the Kilcreggan to Gourock route had been due to end in July.
But Strathclyde Partnership for Transport (SPT) said the contract will end on 12 May.
Previous operator Clyde Marine Services will then take over, with the timetable for the service unaffected.
A spokesman for Clydelink told BBC Scotland it was "fully supportive" of the decision, and wished Clyde Marine Services "every success in the takeover of the route".
The Clydelink service was unable to run for more than 10 days in February, with the company blaming electrical problems on its Island Princess ferry.
Satirical song
The firm was subsequently reported to the procurator fiscal by the Maritime and Coastguard Agency.
Campaigners including local Labour MSP Jackie Baillie have been calling for the company's contract to be terminated ahead of its scheduled date of 15 July.
Ms Baillie said earlier this year that MCA inspectors had "found so many faults with the Island Princess over the past year that it raises serious concerns over whether Clydelink is a fit and proper company to operate a passenger ferry service".
Locals even recorded a satirical song to highlight longstanding problems with the ferry service.
'Great news'
A statement released by SPT on Friday morning confirmed: "Following a series of disruptions to the Kilcreggan-Gourock ferry service, SPT has notified the current contractor, Clydelink Ltd, that the contract will be terminated after the last sailing on 12 May 2018, in line with the terms of the conditions of contract.
"Clyde Marine Services Ltd will assume operation of the contract with effect from 14 May 2018. The timetable of the service is unchanged."
Responding to the announcement, Ms Baillie said it was "great news for local passengers", and called for the ferry service to be transferred from SPT to Transport Scotland as soon as possible.
But the Clydelink spokesman claimed Ms Baillie had created "negativity" through "continual misinformation" in the press and on social media.
Clyde Marine ran the Kilcreggan service for more than 30 years before Clydelink took over in 2012.