UK government 'could retain fisheries negotiations veto'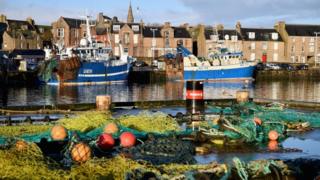 The UK government would retain a veto over Scotland in international fisheries negotiations, according to a draft white paper seen by BBC Scotland.
The paper, which is still to be finalised, sets out a framework for quota talks where devolved institutions would be consulted on the UK government's negotiating position.
It said there would be a "duty of cooperation" within the delegation and that "wherever possible consensus will be sought on negotiating priorities".
However, it admits that the secretary of state would have the power to make a final decision if there is a disagreement within the delegation.
The Scottish government has again accused Westminster of a "power grab" over responsibilities which are already devolved.
Fisheries Secretary Fergus Ewing said decisions which affect the regulation of Scottish waters should continue to be made in Scotland.
Fisheries management is one of the 24 powers over which UK ministers want to temporarily retain power.
The draft white paper also says the Fisheries Bill will include proposals for powers for the UK government to control access to UK waters.
It will include legislative powers, it adds, "for the UK government to set fishing opportunities".
This refers to the amount of fish which is allowed to be caught.
It reinforces the commitment to stick to scientific principles which ensure that collectively the EU and the coastal states of Norway, Faroes Islands and Iceland do not overfish.
'Set out vision'
A Department for Environment, Food and Rural Affairs (Defra) spokesman said: "We are committed to safeguarding the interests of our vital fishing communities and will continue to work closely with Scotland and other devolved administrations to develop a future fishing policy that works for the whole of the UK.
"Our white paper will set out our vision for the industry and will be published in due course. We do not comment on leaked documents."
Mr Ewing said: "Fisheries is a fully devolved matter and decisions which affect the regulation of Scottish waters, and Scottish vessels wherever they operate, should continue to be made in Scotland.
"If these reports are accurate, it seems to be further evidence of the UK government's biggest power grab attempt on devolution since the establishment of the Scottish Parliament.
"UK ministers have not shared any such paper with the Scottish government, neither have we discussed a document of this sort in any of the numerous meetings we have had recently. "
Mr Ewing added: "We are willing to work with the UK government in the same way we want to work with all our European partners to sustainably manage shared fisheries, but any decisions which intersect with devolved competence must be agreed between all the administrations. Yet again, it seems that the UK government is intent on imposing arrangements on Scotland, rather than working collectively."
Bertie Armstrong, chief executive of the Scottish Fishermen's Federation, told BBC Scotland: "This is about jobs, communities and fisheries management.
"Talk of power grabs or vetoes is unhelpful."