Health Secretary Shona Robison urged to quit over suicide case
Relatives of a man who killed himself after being refused admission to a mental health centre have joined calls for the health secretary to quit.
David Ramsay hanged himself at the age of 50 in 2016 after twice being turned away from the Carseview unit in Dundee.
His family has been campaigning for a public inquiry into mental health services at NHS Tayside.
Their case was raised by Scottish Labour leader Richard Leonard at First Minister's Questions.
Nicola Sturgeon strongly denied claims from Mr Leonard that her government had been "silent" over the issue.
Her official spokesman later told journalists that the first minister continued to have full confidence in Health Secretary Shona Robison.
Opposition parties have been calling for Ms Robison to be replaced after accusing her of presiding over a series of failings, including a financial crisis at NHS Tayside.
Who was David Ramsay?
Mr Ramsay made three separate attempts at suicide in the space of a week in the autumn of 2016.
His family convinced him to seek urgent help from his GP, who referred him to Carseview because he "required admission".
Mr Ramsay had two emergency assessments, but was turned away from the centre on both occasions.
His niece, Gillian Murray, told BBC Scotland there had been a catalogue of failures over the handling of her uncle's case in the days before he killed himself.
She said Mr Ramsay's death had been preventable as he had told staff "in no uncertain terms" and on separate occasions that he did not want to live and needed help.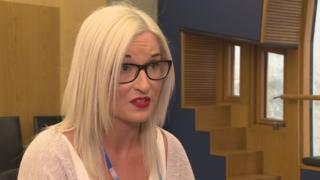 Ms Murray added: "It could happen to anyone - it could be me or you who needs that little bit of help, and he was turned away.
"The hospital took no ownership, they took no accountability. They passed the buck to the family - I was having to Google how to look after a suicidal individual, how to look after somebody with psychosis. That shouldn't have been left to us."
Ms Murray called for a "change of attitudes" and more funding for mental health, and said a public inquiry was needed for the "many, many lives that have been swept under the carpet".
And she said Ms Robison - a Dundee MSP - "needs to resign", adding: "I think that's the right thing to do, the honourable thing to do.
"She knows about the mental health crisis, she's ignored other families previously. She knew about the corporate governance scandal [at NHS Tayside]. She can't bury her head in the sand.
"These are people's lives that are being taken, and you need to do the decent thing and step down."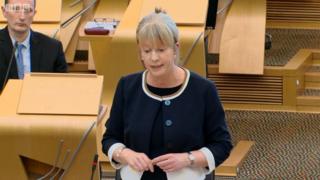 Earlier, Mr Leonard told Holyrood that Scotland's suicide rate was more than twice as high as the rate for Britain as a whole, while in Dundee it had increased by 61% in a year.
And he highlighted a Samaritans report from Wednesday that claimed the Scottish government was not treating the issue of suicide as a top priority.
He asked the first minister: "Why has your government remained silent on this crisis and silent on this demand for a public inquiry?"
He told Ms Sturgeon that Mr Ramsay's relatives were "yet another family failed by your government".
Mr Leonard added: "So, first minister, how many more families must be failed? How many families need to suffer before you finally recognise that now is the time for change?"
What has Ms Sturgeon said?
Ms Sturgeon told MSPs that her "deep condolences" went out to Mr Ramsay's family and that the government had been in contact with them.
But she said that while one suicide was one too many, a five-year rolling average showed suicides were on a downward trend in Scotland.
On Carseview, she said: "I don't think it is right or fair to say that the government has remained silent."
Ms Sturgeon said Health Secretary Shona Robison had visited the unit and the Mental Welfare Commission had carried out an unannounced inspection in March and made a number of recommendations.
She said: "We expect NHS Tayside to fully respond to those recommendations within three months and they have also, as I understand it, been shared with Healthcare Improvement Scotland.
"We will pay very close attention to NHS Tayside's response and if there is further action that we consider is required, then that action will be taken."
The first minister said it was "simply not the case" that no action was being taken, adding that the government's forthcoming suicide prevention strategy would ensure that the best facilities were in place for those who need help.
On the individual case, she said it would be up to the law officers to order a fatal accident inquiry.
An NHS Tayside spokewoman said: "As this is a legal matter we are unable to comment. Every suicide is a tragedy and we offer our condolences to the family."
Details of organisations which offer advice and support are available at BBC Action Line or you can call for free, at any time, to hear recorded information 0800 066 066.