Sturgeon slams baby box 'scaremongering'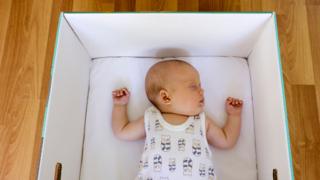 Nicola Sturgeon has accused the Conservatives of scaremongering over the Scottish government's baby box scheme.
The Tories have called for "complete transparency" over the advice the government received on how safe the boxes are for a baby to sleep in.
It came after an expert on cot deaths was reported to have questioned their suitability for sleeping.
Ms Sturgeon said safety certificates had been published for the boxes.
And she said the Scottish Conservatives should be "deeply ashamed of themselves for needlessly trying to frighten parents".
About 22,000 expectant mothers have been given a baby box since the scheme was introduced last year.
The cardboard boxes contain essential items including baby clothes, a digital thermometer, towel, changing mat and books.
They also include a mattress, with government advice stating that the boxes are a "safe and comfortable place for your wee one to sleep".
But the Guardian newspaper reported on Wednesday that Dr Peter Blair, a leading expert on infant mortality, had questioned whether the boxes should be promoted as a safe sleeping space.
Dr Blair was said to have raised concerns that the high-sided boxes meant parents could only check on their infant if they were standing directly above the child.
'Complete transparency'
And he said there was no evidence that the boxes could help to reduce the number of cot deaths, as is sometimes claimed.
Dr Blair, chairman of the International Society for the Study and Prevention of Perinatal and Infant Death, was quoted by the Guardian as saying he would only recommend using the box to sleep in if a baby fell asleep in a dangerous place, such as a sofa, and there was no cot or baby carrier nearby.
He stressed: "I'm not saying don't use the baby box, I'm just saying that you've got to be careful with the advice of how much you can promote it as a safe sleeping space."
His concerns echo similar doubts expressed by the Lullaby Trust cot death charity last year.
Miles Briggs, Scottish Conservative health spokesman, said there should be "complete transparency" from the SNP over the advice received about the boxes, which have been delivered to more than 22,000 families since they launched last August.
But responding to his call for all safety accreditation for the boxes to be published, Ms Sturgeon responded: "That was done nine months ago and I don't believe Miles Briggs doesn't know that.
"The question, therefore, is why is he trying to wilfully mislead people about that?
"The baby box conforms to all relevant safety standards. There isn't yet a specific British standard for baby boxes but the baby box conforms to the standards in place for a crib or a cradle for domestic use, and that includes passing all of the necessary stability, static load and strength safety tests."
'Good thing'
She added: "I just wonder, what is it about the baby box that so offends the Conservatives? Is it just because it is SNP policy or is it because it's giving state support to families when the Tory preference is always to take that away from families?
"Or is it because we haven't insisted on a rape clause for eligibility for the baby box? The baby box is a good thing and the Tories should stop unfairly criticising it."
The British Standards Institution (BSI) confirmed it was considering developing a standard specifically for baby boxes, which are inspired by a similar scheme in Finland.
A BSI spokesman said: "At present there is no standard that covers baby boxes. There may be some clauses of the BS EN 1130 furniture, cribs and cradles for domestic use series that could be applicable to baby boxes, but BS EN 1130 is a furniture standard and not intended for cardboard baby boxes."