MSP launches bill to stop irresponsible dog breeding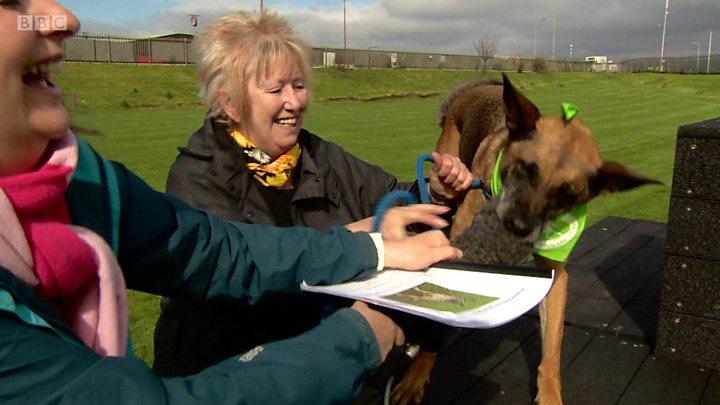 A new members' bill to put an end to puppy farming has been launched.
Christine Grahame MSP wants tighter regulations to stop people breeding dogs in poor conditions then selling unhealthy animals.
The SNP MSP, convenor of Holyrood's cross party group on Animal Welfare, has the backing of charities across the country who welcome the idea of a registration system for breeders.
She attended the event with Dutch Shepherd Sasha.
'End the misery'
The MSP for Midlothian South, Tweeddale and Lauderdale said: "Despite many good breeders and advertising campaigns, too many dogs are given up, such as the lovely Sasha.
"The aim of my proposed bill is to encourage people to think seriously about the responsibilities of dog ownership and to buy from reputable breeders rather than feeding into irresponsible puppy farms with poor conditions and unhealthy dogs.
"Let's try together to end the misery for these animals and put a stop to the increasingly ruthless illegal puppy trade."
If successful the bill will put the onus on buyers and sellers to conduct checks before a dog is sold.
It is being supported by the Scottish SPCA, Dogs Trust, Scottish Kennel Club, Edinburgh Dog and Cat Home and animal charity OneKind.
Libby Anderson, OneKind's policy advisor said: "We are delighted to support Christine Grahame's bill, which offers practical solutions to a trade that often treats young animals more like goods than sentient individuals.
"Both sellers and buyers need to provide for their puppies' welfare, but at the same time it is essential they check that the other party is equally caring and responsible."
Designer dogs
Jen Terris, campaign manager for Scotland at Dogs Trust said: "While many people have good intentions when buying a puppy, unbeknown to them the internet has become a thriving marketplace for advertising badly bred, and some illegally imported, puppies.
"We urge anyone to do thorough research before buying a puppy to help them make sensible choices and to avoid being tricked into buying a poorly-bred puppy.
"We support the bill and look forward to working towards creating a more informed and clear process for anybody looking to welcome a puppy into their family."
Scottish SPCA chief superintendent Mike Flynn added: "As part of our #SayNoToPuppyDealers campaign we are encouraging the public to be responsible sellers and buyers of puppies, and reducing the number of litters before a licence is required would encourage this.
"There is an increasing demand for designer dogs and we hope a registration scheme for anyone providing less than three litters would greatly improve the traceability of pups, should any problems occur."
Scotland's puppy trade is worth an estimated £13m annually.