Police Scotland corruption claims 'will be investigated'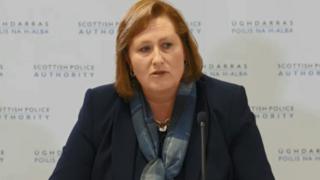 The head of the Scottish Police Authority has pledged that any claims of corruption or misconduct within the force will be thoroughly investigated.
Susan Deacon was speaking after the BBC revealed how attempts were made to suppress a report containing claims of serious police corruption.
Ms Deacon said she had already received assurances that the issues raised had been dealt with by Police Scotland.
And she insisted that Scottish policing is not in crisis.
The BBC documentary showed that corruption complaints and criticisms about the police were removed from an internal Police Scotland report.
The report had been commissioned by then-Chief Constable Stephen House in 2014 - a year after the creation of the single national force.
Justice Secretary Michael Matheson told Holyrood on Tuesday that the report was never given to the Scottish government.
And he said it was a mistake for the force not to have shared it with the Scottish Police Authority (SPA), which is supposed to hold Police Scotland to account.
Speaking at an SPA board meeting on Wednesday morning, Ms Deacon said she wanted to give an "absolute assurance" that any allegations of misconduct or corruption would be "properly looked at".
Any such claims would be referred to the Police Investigations and Review Commissioner.
Ms Deacon said the board had now received a "full written response and assurances that those largely historical issues" that were highlighted in the documentary had been "dealt with".
Ms Deacon also said the police should in future share its examinations of any "matters of significant concern such as this" with the SPA, adding: "And we in turn will also examine such matters when they arise".
However, Ms Deacon said it was "utterly irresponsible" and "absolutely unsubstantiated in terms of the evidence" to suggest that Police Scotland was "somehow in crisis".
She added: "We have a good, strong police service its a police service that we can be very, very proud of.
"I think we need to message that very, very strongly to the public because the public need to know that they can have trust and confidence in our police service."
What did the A Force in Crisis documentary say?
The internal police report revealed by the BBC programme was commissioned by then-Chief Constable Sir Stephen House in 2014, a year after the creation of Police Scotland.
Drafts of the report show the chief constable's office wanted negative comments deleted, tenses changed to suggest problems had been fixed, and the removal of an entire section where frontline officers described working in a culture of fear.
Early drafts of the report also detailed Tayside Police officers conducting unauthorised surveillance, threatening and intimidating witnesses, unlawfully detaining suspects, colluding while compiling statements and failing to reveal evidence - but these allegations were removed from the final version.
The BBC also obtained an email from within Police Scotland which showed that, as well as attempting to edit the report, Sir Stephen - who left his post in 2015 - indicated that he was prepared to "suppress" it altogether, unless a specific word was changed.
Police Scotland has said "significant changes have been implemented" since the report was written.