Scottish police numbers fall to nine-year low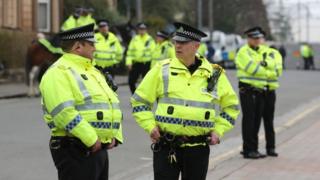 The number of police officers in Scotland has fallen to its lowest level in nine years, according to Scottish government statistics.
The figures showed that Police Scotland had the equivalent of 17,170 full time officers in the first three months of this year.
That is the lowest figure since the first three months of 2009, when the total stood at 17,048.
The Scottish government ditched a commitment on police numbers in 2016.
Officer numbers increased after the SNP came into power in 2007, when the party promised to increase the country's 16,265 officers by at least 1,000.
That pledge was first met in mid-2009, with the number of officers having remained at or above 17,250 since then.
But the commitment to having 1,000 more officers than in 2007 was dropped by the SNP ahead of the Holyrood election two years ago.
The latest figures showed that the total number of officers has now dropped by 86 from the 17,256 recorded at the end of last year.
Despite the slight fall in officer numbers, Justice Secretary Michael Matheson insisted frontline policing was being maintained, with officers being freed up from back office roles.
And he said Scotland still had "significantly" more police officers than when the SNP came to power in 2007.
Police numbers in England and Wales have fallen by about 20,000 since 2010, and are currently at their lowest level in at least 20 years.
'Taking effect'
Mr Matheson said the latest Scottish figures showed that Police Scotland's Policing 2026 strategy was "taking effect".
The strategy aims to release police officers from corporate and backroom roles, with priority given to frontline operations and a more visible community presence.
And the force says changing technology means not everyone involved in fighting crime would be a serving police officer - with civilian staff able to help tackle cybercrime, for example.
When the strategy was introduced last year, Police Scotland said they expected officer numbers to be cut by 400 over the next decade.
The force is facing a £200m funding gap over the next three years.
Mr Matheson said: "While staffing is a matter for the chief constable, I am acutely aware that the public will want to be assured that our hard working police officers are able to offer the best possible service to keep our communities safe.
"HMICS and the Scottish Police Authority must continue to oversee the implementation of the strategy to ensure the force can continue to provide an excellent service across Scotland."
But the Scottish Conservatives claimed the drop in officer numbers was "likely to have a negative effect on front-line policing when we should be doing all we can to keep our communities safe."
And Scottish Labour said: "Public confidence in the force is at rock bottom following scandal after scandal, and falling officer numbers will only make matters worse."