BBC boss to meet church leaders over 'offensive' film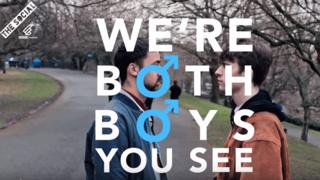 Catholic Church leaders are to meet the head of BBC Scotland Donalda MacKinnon to discuss their concerns over a digital film about being gay in 2018.
The piece, published on digital content stream The Social, included a clip saying the communion host "tastes like cardboard and smells like hate".
Bishop of Paisley John Keenan said that was "deeply insulting and offensive".
BBC Scotland has defended the film but regretted that some church members found it offensive.
Ms MacKinnon has agreed to meet the Bishop of Edinburgh and St Andrews, Archbishop Leo Cushley who, along with Bishop Keenan, complained about the film titled Homophobia In 2018 | Time For Love.
'Personal polemic'
In an official statement, BBC Scotland explained that The Social existed "uniquely" to give young content creators a platform to express their views about matters that directly impacted on them.
It added: "The 'Time for Love' piece is a personal polemic about being gay in 2018 and the experiences outlined in the film are intended to reflect those of the filmmaker.
"As a young gay man, raised in the Catholic faith, it is seen though his eyes and told in his voice, and is intended to reflect the challenges and opinions he personally faced while growing up in Scotland.
"The BBC appreciates that some of our audiences will find it challenging in its approach to tackling some very difficult themes, but we do believe it important that we should provide platforms such as The Social to allow appropriate space for artistic freedom of speech.
"We do, however, regret that some church members found it to be offensive."
Bishop Keenan said the BBC had to guard against adding "fuel to the fire" of religiously-aggravated crime.
In a letter he sent to Ms MacKinnon, he said: "When it comes to important public debates about the wellbeing of the human person and the truth and meaning of human sexuality Catholics feel their views are becoming increasingly marginalised, almost criminalised.
"Catholics ask nothing more from the media than equity of treatment alongside their peers."
The Catholic Church questioned whether in the making of the film the BBC broke its own guidelines about religion.
It has requested to know if the video was "approved or assessed" by BBC Scotland's head of editorial standards and compliance before it was published.