Holyrood approves social security bill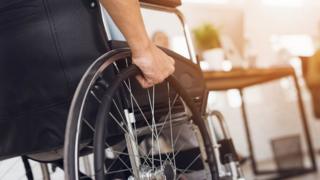 MSPs have unanimously passed legislation to establish a devolved Scottish social security system.
Holyrood is being given responsibility for 11 benefits, including disability living allowance, personal independence payments and carer's allowance.
The benefits are relied upon by 1.4 million people across the country, and are worth about £3.3bn a year.
The devolution of the powers is being staggered, with the benefits system due to be fully operational by 2021.
The payments will be administered by a new Scottish social security agency, headquartered in Dundee and Glasgow, with 1,500 jobs split across the two sites.
A further 400 people will be employed at smaller sites across the country.
The Scottish government has described the changes as a "golden opportunity" to set up a system with "respect and dignity" at its heart.
And it has said the benefits agency will be "a new public service of which we can all be proud", and which will "deliver for the people of Scotland".
It estimates that 500,000 people or families are currently not claiming benefits they are entitled to, and is to spend £300,000 to encourage take-up.
The benefits which are being devolved from Westminster to Holyrood are:
Personal Independence Payments
Carer's Allowance
Attendance Allowance
Disability Living Allowance
Winter Fuel Payments
Cold Weather Payments
Severe Disablement Allowance
Industrial Injuries Disability Benefits
Funeral Expenses Payments (to be replaced by Funeral Expense Assistance)
Sure Start Maternity Grant (to be replaced by Best Start Grant)
Discretionary Housing Payments
Social Security Minister Jeane Freeman said the passage of the bill was "a historic day" for Holyrood, marking the "biggest transfer of powers since devolution began".
She told MSPs: "We have a new public service for the people of Scotland, a principle now enshrined in legislation. That, I believe, is something we should all be proud of.
"This bill has been an opportunity to set up a new service and to do things differently, to remake the system in a way that better fits with the ambition we have for ourselves, as a parliament and as a country. Our shared ambition to live with dignity, fairness and respect."
She said she was "proud and honoured" to move the bill for final approval.
Despite their overall support, opposition parties pressed for changes to some sections of the bill. There was four hours of debate and voting on amendments at Holyrood prior to the final debate.
The Scottish government moved to remove a limit on how long a terminally-ill patient must have left to live before they are eligible for fast-tracking to the highest rate of disability benefits.
MSPs also agreed to press for split payments of Universal Credit between a couple, something which ultimately is in the hands of the Department of Work and Pensions, although a Labour bid to boost child benefit by £5 was rejected by 97 votes to 26.
'Historic day'
The bill was backed by all opposition parties, with the final vote ending 123 to zero.
Scottish Conservative MSP Adam Tomkins agreed it was a "historic day" for Holyrood, paying tribute to Ms Freeman and civil servants who worked on the bill.
He said there was an "awful lot" of work still to be done, with "significant challenges" including the "inevitable labyrinth of shared rule" between Scottish ministers, the DWP and local authorities.
Scottish Labour's Mark Griffin said the "important piece of legislation" had been made stronger by the amendments suggested by MSPs and third sector groups during the bill's progress through Holyrood.
He said the passage was "very much the beginning of a process full of questions", but said it could result in a "functioning social security system which invests in the people of Scotland".
Green MSP Alison Johnstone said the move was a fundamental chance to "do things differently" from the current system, which she said was "fostering insecurity" for too many people.
And Lib Dem Alex Cole-Hamilton said the new system should focus on "restoring humanity", putting claimants "in the driving seat" and recognising the difficulties they face.
It has been estimated that the new system will cost in the region of £308m to set up. Ms Freeman has said she does not expect that figure to increase, despite warnings from Audit Scotland that plans are at a "critical point".