No time limit for terminal illness benefits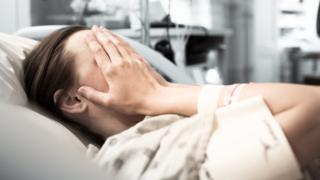 There will be no limit set on how long a patient has left to live before their condition is considered "terminal", the Scottish government has announced.
Current rules for disability benefits and Universal Credit say a patient must have six months or less to live before their illness is classed as terminal.
The Scottish government had been under pressure to extend this in its own Social Security Bill.
It has now said it will scrap the time limit altogether.
Instead, it will be purely for medical professionals to use their own judgement to decide whether the illness is terminal - which will allow the patient to be automatically fast-tracked to the highest rate of disability benefits when they are devolved to the Scottish Parliament.
The move has been welcomed by campaigners, who said it would help to ensure that patients were treated fairly and with dignity, and to access benefits faster than they otherwise would.
The Scottish government's new legislation had originally proposed extending the definition of terminal illness from six months to two years.
Open letter
But ministers then tabled an amendment setting this back to six months - but adding in that conditions could be "identified and defined through consultation with registered medical practitioners".
Several senior medical figures and charities wrote an open letter to the Times on Thursday criticising the amendment.
It was also raised at First Minister's Questions by former Scottish Labour leader Kezia Dugdale, who claimed the Scottish government wanted to "keep the failing system just as it is".
Social Security Minister Jeane Freeman confirmed on Friday afternoon that a fresh amendment would now remove the time qualification completely.
She said the approach to terminal illness for the new social security system had been the most challenging part of the legislation.
Thanking the medial profession and charities for their input into the process, Ms Freeman said she believed they had now arrived at the right solution.
And she said it would "ensure that people who are already in extremely difficult circumstances are able to access the maximum level of financial support they are entitled to - quickly, with dignity, and with no assessment process involved."
What has the reaction been?
Richard Meade of Marie Curie said the cancer charity had always wanted to a definition of terminal illness based purely on clinical judgment.
He added: "We are delighted that the minister has listened to ours and other's concerns and made this possible. We also want to thank all the opposition MSPs who have continued to make the case for a fairer definition of terminal illness."
His view was echoed by Craig Stockton of MND Scotland, who said the change would make a real difference to people affected by motor neurone disease and remove some of the worry and distress that they currently face.
The Scottish Conservatives said the original proposals would have unfairly excluded many people living with terminal conditions from accessing the benefits quickly, and welcomed the fact that the government had "bowed to pressure" to change them.
And Scottish Labour said the change was a "victory for campaigners and the terminally ill" and claimed that the SNP had been "chasing its tail throughout this entire process".