Sturgeon backs Shona Robison over NHS Tayside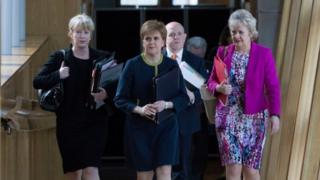 Nicola Sturgeon has backed her health secretary over the ongoing row about NHS Tayside's finances.
Ms Sturgeon pledged to "continue to give my support" to the job Shona Robison was doing.
It came after the head of Scotland's spending watchdog said "clear warnings" about the health board had not been taken seriously.
Scottish Labour leader Richard Leonard told the first minister it was time for Ms Robison to go.
Mr Leonard raised the financial difficulties at NHS Tayside - which has needed £45.3m of Scottish government loans in recent years - after the Auditor General for Scotland appeared before MSPs on Holyrood's Public Audit Committee.
Ms Robison intervened in the running of the ailing NHS board earlier this month, with its chairman being replaced following revelations it had used cash from public donations to fund new technology.
Auditor General Caroline Gardner told MSPs that auditors had flagged that "as being something which was an unusual transaction which played into the growing picture of financial pressures at NHS Tayside".
She added: "There is a significant question about why, throughout the NHS system, warnings from auditors are not being taken seriously.
"The reason why is something you would need to ask of Scottish government and of the board itself."
A review carried out by accountants Grant Thornton found that since 2012 the health board had "misrepresented" its financial performance by "holding" £5.3m allocated by the Scottish government for eHealth initiatives.
The report found that in 2016/17 the health board in effect used the money being held to offset general expenditure, making its financial position look more favourable.
'Fiddling the accounts'
Mr Leonard pressed Ms Sturgeon on the situation at NHS Tayside during First Minister's Questions, saying: "Here we have a health board raiding charity funds to pay the bills and that is after fiddling the accounts.
"What makes this even worse is this all happening in Tayside under the nose of the health secretary, who is a Member of Parliament for Dundee.
And he urged the first minister to "face up to the fact that the time has come for her health secretary to go".
Ms Sturgeon told him she would "continue to give my support as first minister to the job the health secretary is doing to strengthen the leadership of the NHS Tayside board".
She accepted there had been "issues in Tayside for some time" but insisted a number of measures had been put in place to attempt to deal with them.
She added: "Of course since the issue of the endowment fund has come to light the health secretary has taken the action she has taken.
"So at every stage there has been support for NHS Tayside, but when the culmination of issues reached the point it did the health secretary rightly decided the leadership of the board required to be strengthened."