'My older colleagues are paid more than me'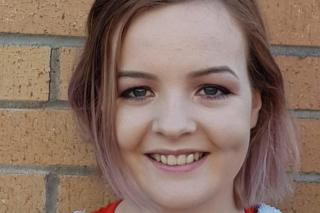 Like many students, Alyssa Faulkner has a part-time job to help her pay her way through university.
She has worked at a fast food restaurant for three years and, as an experienced hand, she is often asked to train new recruits.
But because she is under 25, she is not entitled to the National Living Wage (£7.83 an hour) that older colleagues doing the same job take home.
Instead, the 19-year-old is paid an hourly rate of £5.90 - almost £2 less than some of the new recruits she has to train.
The restaurant is not acting illegally. It is paying Alyssa the minimum wage for a worker of her age.
The UK government says a lower pay rate for younger people helps reduce youth unemployment.
'Same bills to pay'
But it is a frustrating situation for the teenager who is struggling to make ends meet.
"I'm really annoyed at it," she told the Kaye Adams Programme on BBC Radio Scotland.
"I've been there a while so I know how everything works so I often have to train people who come in and show them how to do the job that I've been doing and they're getting £1.90 more than me sometimes."
She said she emailed the owners of the restaurant to highlight her concerns about the pay disparity but they never replied.
And she described how the situation was taking its toll on her studies.
"I actually recently had to go to the university to ask for extra help because I can't afford everyday costs such as rent, bills and food costs.
"All the time I have to use the overdraft facility in my bank as well."
How much is the minimum wage?
Workers aged 25: £7.83 an hour (the national living wage)
Workers aged 21-24: £7.38 an hour
Workers aged 18-20: £5.90 an hour
Workers aged under 18: £4.20 an hour
Source: UK government
Campaign group Better Than Zero said it was unfair that younger people were earning less than colleagues, despite having the same bills to pay.
Clare Galloway told BBC Scotland: "They can be married, they can have kids but they can be in work earning £2 less than their colleagues."
She added: "The people that we represent and speak to on a daily basis are working so many hours, some of them on £5.90, to pay their household bills.
"It leaves them with absolutely no quality of life, absolutely nothing."
She called for a standard base-line pay for all workers, regardless of their age.
"I think it should be based on the job itself, it could be based on experience," she said. "I don't think there's any need for a 17-year-old to be paid £4.20 because they don't have experience where you could have a 25-year-old on £7.83 with no experience. "
The issue has been taken up by Glasgow Central MP Alison Thewliss, who said young people were being exploited by unscrupulous employers.
'Skills for the future'
"Age is a protected characteristic in the equality act," she told BBC Scotland.
"If I was to say I was going to discriminate against somebody because of their gender, because of their race, because of their religion in terms of their wages, quite rightly that would be unacceptable but age seems to be treated differently here and I don't think that's fair."
In a debate in the House of Commons on Tuesday, she called on the UK government to end the "scandal of state-sponsored age discrimination".
Responding, Chief Secretary to the Treasury Liz Truss said: "It is extremely worrying that those on the opposition benches would rather see young people out of work and without opportunities than in work, learning and getting the skills for their future.
"All the evidence shows that if we set the rate too high we see youth unemployment, which is exactly what happened under the previous Labour government."
She added that youth unemployment was falling because "we have taken the time to reduce the deficit, to make it easier for employers to take on staff, we've reduced corporation tax, making it easier for companies to hire people, that's why we've got the lowest unemployment since 1975 and rising wages."