Scottish NHS pay 'will match England'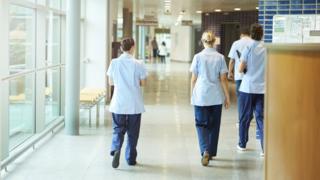 A pay deal for NHS workers in Scotland will ensure they earn at least as much as their counterparts elsewhere in the UK, the Scottish government has said.
A deal struck in England will see NHS staff there given pay rises of at least 6.5% over three years.
Scotland's health secretary, Shona Robison, said she hoped to reach a similar deal as soon as possible.
Both the Scottish and UK governments recently lifted the 1% pay cap for public sector workers.
The deal agreed between the Department of Health and union leaders in England will be tiered, with the lowest-paid in each job receiving the biggest rise - with some getting as much as 29%.
Following the announcement, Ms Robison said pay discussions were now under way with NHS Scotland staff representatives and health boards.
The talks will cover NHS staff including nurses, porters and paramedics, but not doctors, dentists or senior managers.
Ms Robison said: "We have been clear that we will ensure nurses, support staff, AHPs, and all other staff groups covered by this agreement will be paid at least as much as their counterparts in other parts of the UK.
"We'll be working to reach a Scottish agreement as soon as possible and pay uplifts will be paid at the earliest opportunity.
"This will include staff receiving retrospective payments to reflect the value of the uplift backdated to 1 April 2018."
She said Barnett consequentials resulting from additional UK government funding for the English settlement would be used to invest in the Scottish pay agreement.
Pay for NHS workers is said to have fallen by 15% since 2010 once inflation is taken into account.
'Best deal'
The Royal College of Nursing (RCN) welcomed the agreement in England, and warned that any failure to match it would have a significant impact on recruitment and retention in NHS Scotland.
Its Scottish director, Theresa Fyffe, said: "The voice of nursing staff has been heard and we welcome the Scottish government's decision to open negotiations on NHS pay.
"Like them, we want to move quickly and we will be working hard to secure the best deal for our members."
She said the RCN would be pushing Scottish government to agree a pay offer as quickly as possible to allow consultation with its members to take place during April and May.