Councillor joins SNP deputy leader race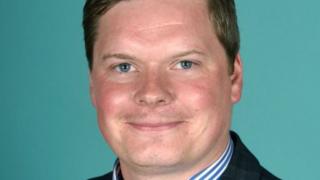 An SNP councillor has joined the race to become the party's deputy leader.
Chris McEleny, who leads the SNP group at Inverclyde Council, becomes the fourth candidate to put their name forward.
The deputy leader position became available when Angus Robertson stepped down in February after losing his Moray seat to the Tories last June.
The other candidates standing are Economy Secretary Keith Brown, Glasgow MSP James Dornan and Julie Hepburn.
Ms Hepburn has worked for a number of senior figures in the SNP including Deputy First Minister John Swinney and Perth MP Pete Wishart.
Mr McEleny said he would be putting communities at the heart of a new case for independence.
He said: "It is up to each and everyone of us make the case for independence and build a new case to deliver independence in our time.
"It is my belief that independence will be delivered by winning the hearts and minds of communities across Scotland, I today announce that I will be accepting the nominations of SNP members across Scotland who have humbled me with their support and I will seek election to the office of depute leader of the Scottish National Party."
Mr McEleny also stood in the last deputy leadership election in 2016, when he went up against Angus Robertson, Tommy Sheppard and Alyn Smyth.
He added: "We will win independence by winning the hearts and minds of communities across Scotland. That is the job I pledge to do, to best serve SNP members, the independence movement and our leader Nicola Sturgeon:
"To bring together a partnership of people; of teachers, of nurses, of trade unionists, of business leaders, of students, of young people and old people, a partnership of people that will set out better our position on currency, the economy and pensions. A new independence community that will take our case to every community across Scotland, town hall by town hall, and together we will deliver independence in our time."
The contest winner will be announced at the SNP conference in June.