Nicola Sturgeon says Football Act repeal 'a retrograde step'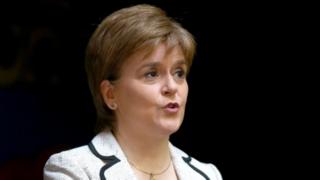 Nicola Sturgeon has said she is "disappointed" by the vote to scrap the Offensive Behaviour at Football Act.
Opposition parties defeated the Scottish government by passing Labour MSP James Kelly's repeal bill on Thursday.
The law was designed to tackle sectarianism in Scottish football - but critics said it was not effective.
Speaking for the first time since the vote, the first minister said the move was a "retrograde step".
She said she understood the concerns that had been expressed about the offensive behaviour laws, adding: "Parliament has taken its decision so we move on now".
But Ms Sturgeon added: "I'm disappointed. I think it was a retrograde step.
"Obviously, we've had a concern about repealing the act before alternatives were in place but we've moved on from that.
"It's important that we do not lose sight of the collective need across society to have zero tolerance towards sectarianism and I hope that message, notwithstanding the vote yesterday, continues to go out very strongly."
The legislation was passed by the then-majority SNP government in 2011 in a bid to crack down on sectarianism, despite unanimous opposition from all four opposition parties.
'Worst piece of legislation'
With the SNP losing its majority at the last Scottish Parliament election, opposition MSPs united to repeal the law in Thursday's vote.
It will be formally removed from the statute book at the start of April.
Mr Kelly, who had spearheaded the process of repealing the law, described it as "the worst piece of legislation in Scottish parliament history".
He said that while "every reasonable member" condemned bigotry, the Football Act was poorly drafted and had "completely failed" to make a difference.
Mr Kelly said the legislation treats football fans as "second class citizens", adding that it was "illiberal" and a "legislative disaster", and it was "time for it to go".
He said "a much wider and more serious conversation" was needed to make a difference in tackling sectarianism, saying he would be happy to work alongside the government on that.
What is the Offensive Behaviour at Football Act?
The legislation was drawn up by the Scottish government following a summit in March 2011 to discuss the impact of sectarianism on Scottish football and on wider society.
The summit was called after Celtic manager Neil Lennon and his Rangers counterpart, Ally McCoist, were involved in a heated touchline confrontation during a match.
In the previous weeks, "viable parcel bombs" had been sent to Lennon and prominent Celtic supporters Paul McBride QC and MSP Trish Godman, while bullets were also posted to Lennon and two Celtic players.
The new law, which came into force in 2012, created two new offences - "offensive behaviour at regulated football matches" and "threatening communications".
As well as people actually attending matches, the first of these covers people travelling to and from matches, and those watching the match on TV in a pub.
It involves behaviour that is "likely to incite public disorder", and which is "expressing hatred of, or stirring up hatred against" a person or group based on religion, race, nationality or sexual orientation.
The "threatening communications" section of the law generally covers online and social media abuse.
The law was the first piece of legislation passed at Holyrood with no cross-party support, with every SNP MSP voting in favour - and every opposition MSP voting against.
Speaking on Wednesday, Hibernian manager Neil Lennon - who was targeted by a letter bomb when he was Celtic manager - said he believed there were now fewer incidents of sectarian chants and songs in Scottish football than in years gone by.
But a number of people employed by the league to tackle sectarianism told BBC Scotland that sectarianism was being swept under the carpet, with not enough being done address the problem.