'Sunset clause' offer in Brexit powers row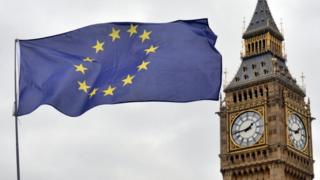 The Scottish and Welsh first minister have proposed putting a limit on the length of time Westminster can "freeze" any devolved powers after Brexit.
Nicola Sturgeon and Carwyn Jones hope the "sunset clause" proposal could end the deadlock with the UK government.
They have written to Labour peers in the House of Lords asking them to support an amendment to the EU Withdrawal Bill.
Ms Sturgeon and Mr Jones met the prime minister for talks earlier this week.
The talks again ended without agreement being reached over what happens to powers in devolved areas that return to the UK after Brexit.
But Ms Sturgeon was noticeably more upbeat than after previous meetings, and appeared hopeful that an agreement would ultimately be reached.
It comes after the UK government published proposals that would see the "vast majority" of the 158 areas where policy in devolved areas is currently decided in Brussels returning to Edinburgh and Cardiff rather than Whitehall.
But it named 24 devolved policy areas where it wants to retain power temporarily in the wake of Britain's exit from the EU, including in areas such as agriculture, fisheries, food labelling and public procurement.
They say a "temporary restriction" on the devolved governments using some of the powers returning from the EU is needed "to help ensure an orderly departure from EU law" and allow common UK-wide frameworks to be established.
The letter from Ms Sturgeon and Mr Jones said they agree that common frameworks are appropriate "in some cases".
But they say the UK government proposals would allow it to change regulations without any involvement from the devolved parliaments.
They add: "The devolved legislatures would be being asked to agree to the creation of this power with no certainty about where frameworks will be established, how these will work, how they will be governed and how we will go from temporary restrictions to longer term solutions."
The letter sets out a series of proposed changes, including for the sunset clause to be added - which it says would "ensure that any power to make regulations as a precursor to frameworks is temporary".
The letter adds: "Whilst the two governments accept that it may take time to put frameworks in place, regulations must not be open-ended and pressure to agree frameworks should apply to all parties."
They have called for further amendments to ensure that the temporary restriction on devolved powers would require the consent of the devolved administrations, and any primary legislation required to establish common frameworks must be agreed by them.
The two governments have also asked that the UK government agree a level playing field and make a commitment not to bring forward legislation in respect of England in those areas where it is agreed common frameworks are to be established.