Alex Salmond: Russian TV station 'not propaganda'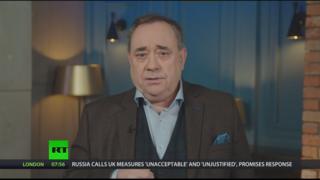 Alex Salmond has launched a staunch defence of his weekly show on Russian broadcaster RT as he warned regulator Ofcom against closing the channel down.
Opponents have accused the former Scottish first minister of being a "useful idiot for the Kremlin".
But Mr Salmond insisted that the state-funded channel was not propaganda, and he had never been told what to say.
And he said revoking its broadcasting licence in the UK would "make a mockery of freedom of speech".
Ofcom said earlier this week that it could strip RT (Russia Today) of its broadcasting licence if the UK government concluded that Moscow was behind the chemical poisoning of a former spy in Salisbury.
There have been claims that RT acts as a propaganda tool for the Kremlin, although politicians from all of the major UK political parties have appeared on it.
On Wednesday, Prime Minister Theresa May told MPs that there was "no alternative conclusion other than that the Russian state was culpable" for the attack that left Sergei Skripal, 66, and his daughter, Yulia, critically ill in hospital.
Det Sgt Nick Bailey also fell ill after responding to the incident.
Speaking on his show on Wednesday morning, Mr Salmond said the chemical poisoning was a "heinous crime" that should be "universally condemned", although he did not directly accuse Moscow of being responsible.
He did acknowledge that the UK government was "totally convinced that the Russian state is involved" and said it was therefore "entitled to take a range of additional measures".
But he said the government would need to produce "overwhelming evidence", which Russia would then have to answer.
What is RT?
The Kremlin-funded news channel began broadcasting internationally in 2005 in English, Arabic and Spanish as Rossiya Segodnya (Russia Today).
It shortened its name to RT several years later and began focusing on US news. It launched a dedicated UK service in 2014.
It says it provides a "Russian viewpoint" on world events and challenges "mainstream media" - but critics say it is a propaganda vehicle for the Russian government.
It has been sanctioned by UK regulator Ofcom for misleading programmes on the conflicts in Ukraine and Syria.
Its website has prominently featured claims that British intelligence agencies may have been involved in the poisoning of Mr Skripal.
Foreign Secretary Boris Johnson said last year it was "an absolute scandal" that Labour MPs had given interviews to RT.
A number of Conservative and SNP politicians - and ex-UKIP leader Nigel Farage - have also appeared on the channel.
The channel was recently forced to register as a foreign agent in the US.
Mr Salmond said he held "no brief for the Kremlin", and added: "No-one has tried to influence the content of this show in any way, shape or form whatsoever.
"By definition RT has not been a propaganda station because it is regulated under a UK licence by Ofcom.
"Yes it has had breaches of the Ofcom code, but so have Sky, ITV and the BBC."
Mr Salmond said shutting down RT would send the message that "your standpoint is so uncertain that you must exclude other perspectives".
He continued: "To censure would make a travesty of the concept of nation speaking unto nation, a mockery of freedom of speech and it would portray an image of a country lost in self-doubt.
"Liberal democracies don't succeed in international confrontations by sacrificing their dearest held values - their freedom of speech."
Speaking at Holyrood, Scottish Conservative leader Ruth Davidson said RT exists "for the sole purpose of promoting the agenda of Putin's regime".
She added: "It acts as an apologist for a government which all the evidence shows has directly or indirectly been culpable in a chemical attack on Britain's soil."
Ms Davidson called on the first minister and others to "unite against propaganda channels which spread disinformation and undermine our values".
In response, First Minister Nicola Sturgeon said she had made her views on RT known in the past, and had not changed that view.
But she said it was right that the question of whether RT should be allowed to continue broadcasting was one for Ofcom rather than politicians.
Russian donations
Ms Sturgeon said Russian donations to political parties were also a major issue - a reference to money given to the Conservatives by several Russian oligarchs in recent years.
She added: "Based on what I have been told - and in my case, of course, that includes briefing directly from the national security advisor - I believe at this stage the conclusion that Russia was responsible (for the chemical attack) is a reasonable conclusion.
"Therefore I think it demands a proportionate, but a very firm, response and that is why I support the initial steps that the prime minister outlined in the House of Commons."
Ms Sturgeon has previously distanced herself from Mr Salmond's RT show, saying she would have advised him against doing it if he had asked her advice.
Former Liberal Democrat leader Sir Menzies Campbell told the BBC's Good Morning Scotland programme that it was "unfortunate, to put it mildly" that Mr Salmond was associated with RT, and called on him to reconsider his position.
Labour's Shadow Chancellor John McDonnell has said he will not be making any more appearances on RT, whose coverage he said "goes beyond objective journalism", and has urged other Labour MPs not to appear.