Sturgeon condemns Russia over spy attack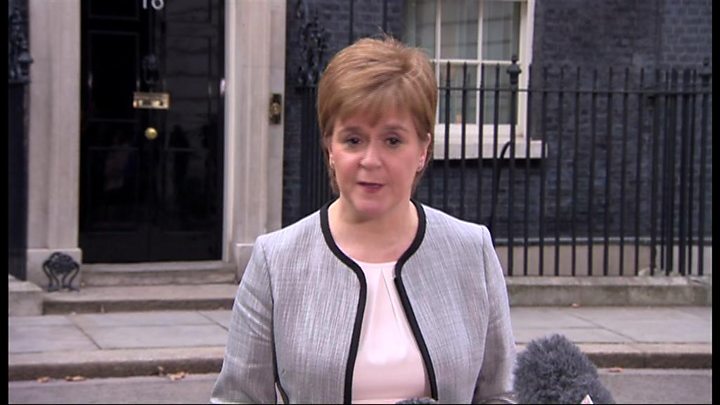 Scotland's first minister has condemned Russia over the nerve agent attack on a former spy and his daughter.
Nicola Sturgeon gave her backing to Prime Minister Theresa May's decision to expel 23 Russian diplomats.
And she said it was "very clear" that Russia "cannot be permitted to unlawfully kill or attempt to kill people on the streets of the UK with impunity".
Russia denies being involved in the attempted murder of Sergei Skripal.
Mr Skripal, 66, and his daughter, Yulia Skripal, 33, remain critically ill in hospital after being found slumped on a bench in Salisbury on 4 March.
Det Sgt Nick Bailey also fell ill after responding to the incident. He is in a serious but stable condition, but is thought to be improving.
Speaking in the Commons, Mrs May said there was "no alternative conclusion other than that the Russian state was culpable" for the attack.
She said Russia had provided "no explanation" as to how the nerve agent came to be used in the UK, describing Moscow's response as one of "sarcasm, contempt and defiance".
And said it was "tragic" that Vladimir Putin, the Russian president, had "chosen to act in this way".
Among the series of measures the prime minister announced in order to send a "clear message" to Russia were:
The expulsion of 23 diplomats - who have one week to leave
Increased checks on private flights, customs and freight
The freezing of Russian state assets where there is evidence they may be used to threaten the life or property of UK nationals or residents
Ministers and the Royal Family to boycott the Fifa World Cup in Russia later this year
The suspension of all planned high-level bi-lateral contacts between the UK and Russia
Mrs May later met Ms Sturgeon for face-to-face talks at a Joint Ministerial Committee meeting in Downing Street on Wednesday afternoon.
As she left the meeting, Ms Sturgeon said those attending had been "united in our condemnation of Russia's actions".
She added: "I expressed my support for the initial steps that the prime minster has outlined in the House of Commons this afternoon.
"Obviously as legislation is brought forward we will scrutinise that carefully.
"But it is very clear that Russia cannot be permitted to unlawfully kill or attempt to kill people on the streets of the UK with impunity."
The SNP's leader at Westminster, Ian Blackford, had earlier told the Commons that a "robust response to the use of terror on our streets" was needed.
Mr Blackford said it must be "clear to the Russian authorities" that the UK will "not tolerate activities which infringe international law".
He added: "We must act in a measured way to show that we will simply not tolerate this behaviour, and in this regard I welcome and associate us on these benches with the measures contained in this statement.
"On this matter, I commit my party to working constructively with the government."
Ms Sturgeon's predecessor as first minister, Alex Salmond, is expected to give his thoughts on the issue when he hosts his weekly show on Russian channel RT on Thursday morning.
There have been calls for Ofcom to revoke the channel's broadcasting licence in the wake of Mrs May's statement to MPs.
Mr Blackford's comments were warmly received by Conservative MPs, who responded by shouting: "That's how you do it" at Labour leader Jeremy Corbyn.
Mr Corbyn was heckled after condemning the "appalling act of violence" before urging continued "robust dialogue" with Russia.
He also said it was a "matter of huge regret" that budgets to the UK's diplomatic service had been cut.
Mr Corbyn's official spokesman later said there was not yet definitive proof the Russian state was behind the attempted murder of Mr Skripal.
His comments led to several Labour MPs calling for their leader to be firmer in his condemnation of Russia.
What does Russia say?
Russia's embassy in London condemned the measures outlined by Mrs May as "hostile action" which was "totally unacceptable, unjustified and shortsighted".
Its statement added: "All the responsibility for the deterioration of the Russia-UK relationship lies with the current political leadership of Britain."
Russian Foreign Minister Sergei Lavrov accused Britain of "playing politics" and ignoring an international agreement on chemical weapons.
He said Moscow would co-operate if it received a formal request for clarification from the UK under the Chemical Weapons Convention, which sets a 10-day time limit for a response.
The UK is to brief the UN Security Council on the investigation at 19:00 GMT, and officials earlier met Nato's North Atlantic Council.
At the meeting, Nato allies expressed "deep concern" at the use of a nerve agent and said it was a "clear breach of international norms and agreements".
Mr Skripal, who came to the UK in 2010 as part of a "spy swap" after he had been convicted by Russia of passing information to MI6, is a British citizen.