Mark McDonald returns to Holyrood despite calls to quit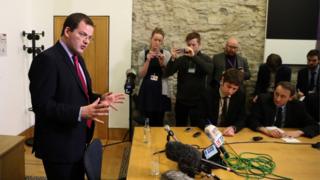 A former Scottish government minister has returned to Holyrood for the first time in four months despite mounting pressure for him to quit over harassment claims.
Mark McDonald intends to sit as the independent MSP for Aberdeen Donside after resigning from the SNP last week.
First Minister Nicola Sturgeon and many of his other former colleagues have called on him to stand down as an MSP.
But Mr McDonald urged voters to give him a "second chance".
Speaking to the media in the Scottish Parliament on Tuesday afternoon, he said he had already apologised "sincerely and profusely for any upset" that had been caused by his behaviour.
And he again insisted that resigning and causing a by-election was not the right thing to do.
He added: "During the four months that I have been absent, I've spent time reflecting carefully on my past behaviour and my future conduct, how I learn from what has happened and how I ensure that in future my behaviour does indeed meet those standards which I should set for myself, and which should be expected of me as an elected representative."
He said he was now focused on doing his best to represent his constituents, and demonstrating that he was capable of changing his behaviour.
Mr McDonald said: "I'm here to keep my head down and do the job that I was elected to do. I'm not here to cause any upset or antagonism for people and that is the approach that I will be taking."
Mr McDonald previously had an office in the parliament's SNP corridor, but has now been allocated a room in the building's basement.
He appeared in the Holyrood chamber during a debate on the Scottish government's Brexit continuity bill, but had to sit behind the Labour group - across the aisle from his former SNP colleagues.
He quit the SNP ahead of the results of an internal party investigation into allegations from three women being made public.
Unwanted text messages
Investigators said Mr McDonald's inappropriate behaviour had been persistent, had included unwanted text messages and attention, and had exploited his position of power.
They said they were not able to reach a "definitive conclusion" on a further allegation of inappropriate physical contact during a social event.
Full details of the allegations made against Mr McDonald have not yet been released.
The married father-of-two resigned as childcare minister when the claims first emerged in November.
He was not seen again at the Scottish Parliament until returning on Tuesday.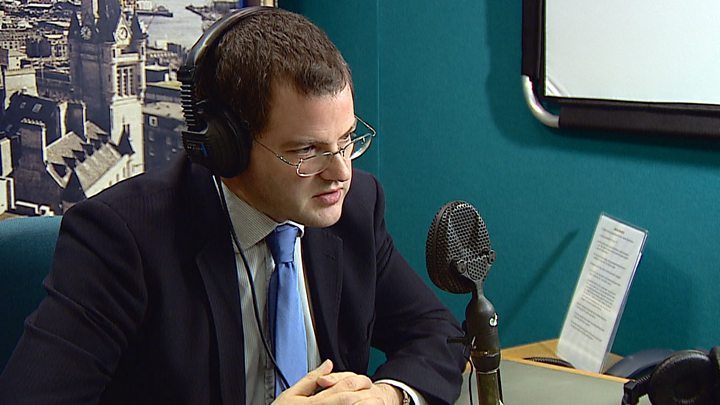 On Monday, SNP MSP James Dornan - a candidate for the party's deputy leadership - confirmed he had lodged a formal complaint over Mr McDonald's return to parliament.
In a letter to the Standards Committee, Mr Dornan said: "In my view having Mr McDonald in the same workplace as his victims would be a clear negation of the duty of care that the parliament has to all its members of staff."
Mr Dornan said he had once escorted a staff member to a car outside Holyrood as she was "sure Mr McDonald was waiting for her".
He added: "As we left the building he was standing close to the exit, and I have no doubt he was indeed waiting for her."
Mr Dornan also said Mr McDonald had sent the woman "highly inappropriate" social media messages, and had shown her "unwanted attention" at Holyrood on several occasions.
He said the woman had first told him of her "distress" at the end of 2016, and he had encouraged her to take it further at the time.
'Unwell with stress'
But Mr Dornan said she had initially been "afraid and anxious" at the prospect of doing so because of Mr McDonald's position as a government minister, and that it was "at her insistence" that he did not take it further himself.
Mr Dornan said the woman later became "so unwell with stress" she had a stroke, a situation he claimed was "compounded" by Mr McDonald.
His letter added: "When the (Harvey) Weinstein allegations started to break, my staff member reported Mr McDonald to the Scottish National Party.
"The change in the perceived public response to victims enabled her to do so."
The letter from Mr Dornan will be considered by the committee on Thursday, when members will decide how to proceed.
Mr McDonald won a huge 11,630 majority in the last Holyrood election in 2016 after securing 56% of the votes.
Ms Sturgeon told BBC Scotland last week that his constituents should now be given the opportunity to elect a new MSP.