Corbyn: Labour Brexit approach 'sensible'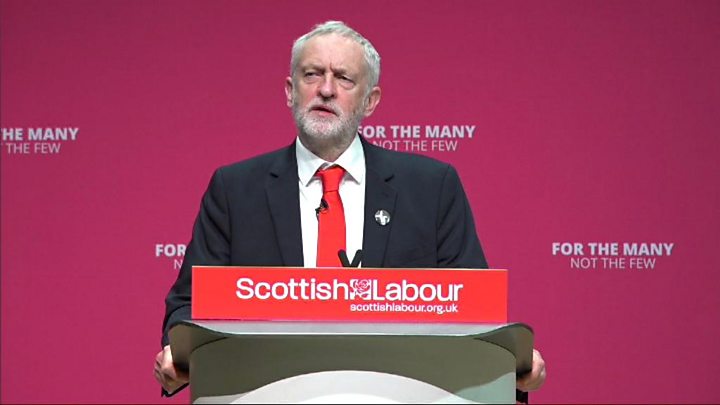 Jeremy Corbyn has insisted he has a "common sense" approach to Brexit, in contrast to the "chaos" of the Tories.
Mr Corbyn was speaking at the Scottish Labour conference, which has largely been dominated by a row over single market membership.
He said he wanted a "new and strong" relationship with the single market.
But he said it would be "wrong" to sign up to a single market deal that was not "fully compatible with our radical plans to change Britain's economy".
The Labour leader told delegates in Dundee that the Brexit plans of the Conservatives were in "chaos", and said his party would fight to "put jobs and living standards first" as the UK leaves the European Union.
And he stressed that "retaining the benefits of the customs union and the single market" was vital - saying this would help future Labour governments in Edinburgh and London to "fully implement our socialist programme".
Mr Corbyn said: "As democratic socialists, we respect the result of the referendum.
"But Labour has its own common sense approach in stark contrast to the Tories' extreme and reckless plans for Brexit.
"We would aim to negotiate a new and strong relationship with the single market and a floor under existing rights, standards and protections for workers, consumers and the environment."
Mr Corbyn recently said he now favours the UK remaining in a customs union after Brexit, but has stopped short of backing single market membership despite being urged to do so by many party members.
He told the conference: "We are determined to negotiate a deal that gives us full tariff-free access to the single market."
And he said any deal with the EU must be compatible with his plans for a "jobs first Brexit", which would include nationalising the railways and the postal service, and to end the privatisation of public services.
Mr Corbyn said: "We also need to be clear, we could not accept a situation where we were subject to all EU rules and EU law, yet had no say in making those laws.
"That would leave us as mere rule-takers and isn't a tenable position for democracy."
The conference got off to an embarrassing start after the name of the party's main founder, Keir Hardie, was misspelled as Keir Hardy on a big screen in the auditorium at Dundee's Caird Hall.
Scottish Labour leader Richard Leonard, who is secretary of the Keir Hardie Society, was standing on stage at the time of the error.
It was later corrected but not before the mistake was derided on social media, with First Minister Nicola Sturgeon simply tweeting: "OMG".
Mr Corbyn insisted his party was "preparing to go into government", and had defied critics who had predicted the party was "heading for a wipeout" in last year's snap general election.
He said: "That's not how it turned out. With our popular and fully costed manifesto we offered the chance of transformation and hope and confounded those so-called experts."
He added: "Of course I know that we didn't quite win. But conference we are no longer just an opposition. We are a party preparing to go into government.
"We are ready to put into practice our common sense policies to end austerity, invest in people's futures and radically transform our society so that it works for the many not the few."