One in five Holyrood staff raise harassment concerns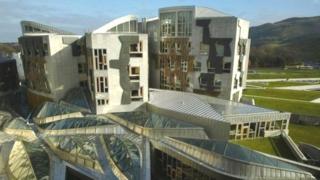 One fifth of Scottish Parliament staff - including one in three women - have experienced sexual harassment or sexist behaviour while working at Holyrood.
The parliament published the results of a confidential survey of MSPs and staff which more than 1,000 took part in.
A fifth of respondents said they had experienced such behaviour, including 30% of women.
Presiding Officer Ken Macintosh said the survey results "make difficult reading".
The survey was set up following concerns about harassment and inappropriate behaviour in politics, with claims of a "catalogue of abuse" at Holyrood.
A total of 1,039 surveys were filled out, and while 78% of respondents said they had not experienced harassment or sexist behaviour, 20% said they had.
This included 30% of women, with the most common complaints noted including sexist comments and "looks, leers, comments or gestures of a sexual nature".
A total of 5% reported unwanted physical contact, with this including complaints of "invasion of personal space", hugging, kissing and groping.
Of those who reported harassment or sexist behaviour, 45% identified the perpetrator as an MSP - those responsible for such behaviour were found to be "predominantly male and tend to be in a position of authority over those experiencing it".
Mr Macintosh said party leaders had "reiterated their strong commitment to tackling these issues and to ensuring a zero tolerance approach".
He said: "For an institution which prides itself on openness, inclusivity and on having progressive working practices, a number of the findings make for difficult reading.
"I am sorry that people have experienced this type of behaviour while working here. I am determined to address this.
"Sadly, these issues are not unique to the Scottish Parliament. As an institution that reflects Scotland, Holyrood will inevitably reflect the inequality that exists in Scottish society.
"However, as the nation's legislature, it is our duty to take a moral and political lead in tackling sexist behaviour and harassment."
'Unacceptable behaviour'
First Minister Nicola Sturgeon said she was "shocked, saddened and disappointed" by the survey reults.
She said: "It is clear that women and men - but mainly women - have put up with behaviour that is unacceptable.
"No one should be subject to harassment or sexist behaviour of any kind in their work or personal life and our national parliament should set a positive example as a place of work with the highest standards of behaviour."
Kezia Dugdale, a member of the parliamentary corporate body management group, said the results were "concerning", but "by no means surprising".
"We have known for many years that sexual harassment and sexist behaviour is present throughout our society. This survey confirms that Holyrood is not immune to the problem.
"The key question now is how we tackle the issues it has uncovered."
A joint working group set up to look at the problem will now consider the findings, with Mr Macintosh saying it had already started to identity the key strands of work it will take forward to address the issues raised".
The parliament set up a reporting hotline, which received nine calls over three months of operation.
Holyrood's standards committee is also holding an inquiry into how harassment reports are dealt with.
Ms Sturgeon said that "the most significant change" that could be made would be "a change in behaviour by the perpetrators".
She added: "People across the parliament - from MSPs, to staff, to members of the media - should be considering how they use the power they hold and whether their behaviour lives up to the high standards that we should all expect."